Summary
This incredible activity will take place on Navarino Island, located within one of the country's southern Biosphere Reserves called Cabo de Hornos.
The island is noted for its nationally important sociocultural history, as it is home to human settlements containing descendants of the Yagan people, considered to be the southernmost group of people in the world and in danger of disappearing. It is also one of the planet's most pristine ecoregions, containing bodies of water that are free from pollution and the amazing Sub-Antarctic Magellanic forest, making it a unique destination!
What can I expect?
On this hike, you will cover 42 kilometers east to west through the Dientes de Navarino mountain range. You will be walking around five hours a day and reaching maximum altitudes of 1,000 meters above sea level. For this reason, this is an activity for people in good physical shape and levels of training, and it is not recommended for children under 12.
Through hiking and sports, you will be able to enjoy the amazing scenery made up of varying ecosystems such as lakes, valleys, forests, and rivers, as well as spotting Sub-Antarctic birds, exploring micro-diversity through ecotourism with a magnifying glass in miniature forests, and much more!
ITINERARY
Santiago, Punta Arenas & Puerto William
The day begins with a DAP flight to the city of Puerto Williams. On the way, you will be able to see from the air an incredible panorama including glaciers, the Cordillera Darwin, southern channels and colored lagoons. When you arrive, a van will be waiting for you at the airport, ready to take you to Lakutaia Lodge, where you will enjoy a welcome aperitif and a delicious lunch.
In the afternoon, you'll visit the Ethno-Botanic Park of OMORA, where the "magnifying glass tourism" excursion will take place in the miniature Sub-Antarctic forests of the archipelago. This is part of a bio-cultural conservation initiative and has the active participation of the Yagan people living in Puerto Williams.
In the evening, after dinner, a guide will meet with you to give you all the information you'll need about the Dientes de Navarino trek.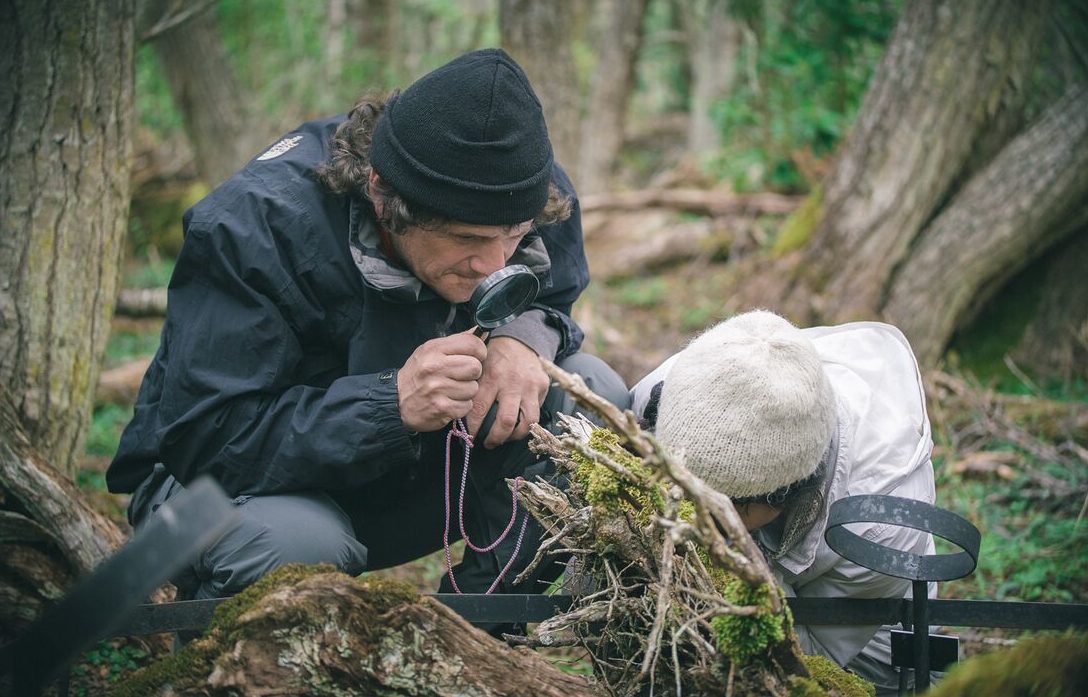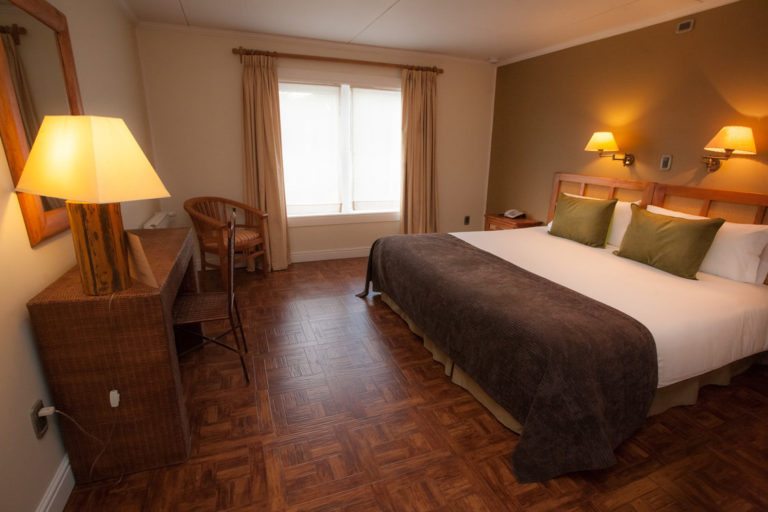 Lakutaia Lodge
Room
Standard
Meals
Full Board
Category
4 star Lodge
Estilo
Remote Hotel
Navarinos Island
*Important: The specialist guide reserves the right to suspend the activity or modify the itinerary due to adverse weather conditions for reasons of safety for all participants.
After breakfast at the lodge, a vehicle will be waiting to take you to the beginning of the hike, which will be in the Róbalo valley heading towards the Laguna del Salto. To get there, there are two alternative routes depending on weather conditions:
1) To the east of the Róbalo valley, a 1.5-hour ascent begins towards the Bandera hill (590m). From there, you'll have an amazing panoramic view over Puerto Williams and the Beagle channel. Then, you will continue to walk for 2 hours through the same valley before descending towards the Laguna del Salto (490m).
2) The route will begin in the Róbalo valley, and a large part of the way will be in wooded areas. You will get gradually closer to the Dientes de Navarino, seeing various lagoons, lakes and beaver dams. Once on the shores of the lagoon, you will set up your first camp and enjoy a delicious dinner.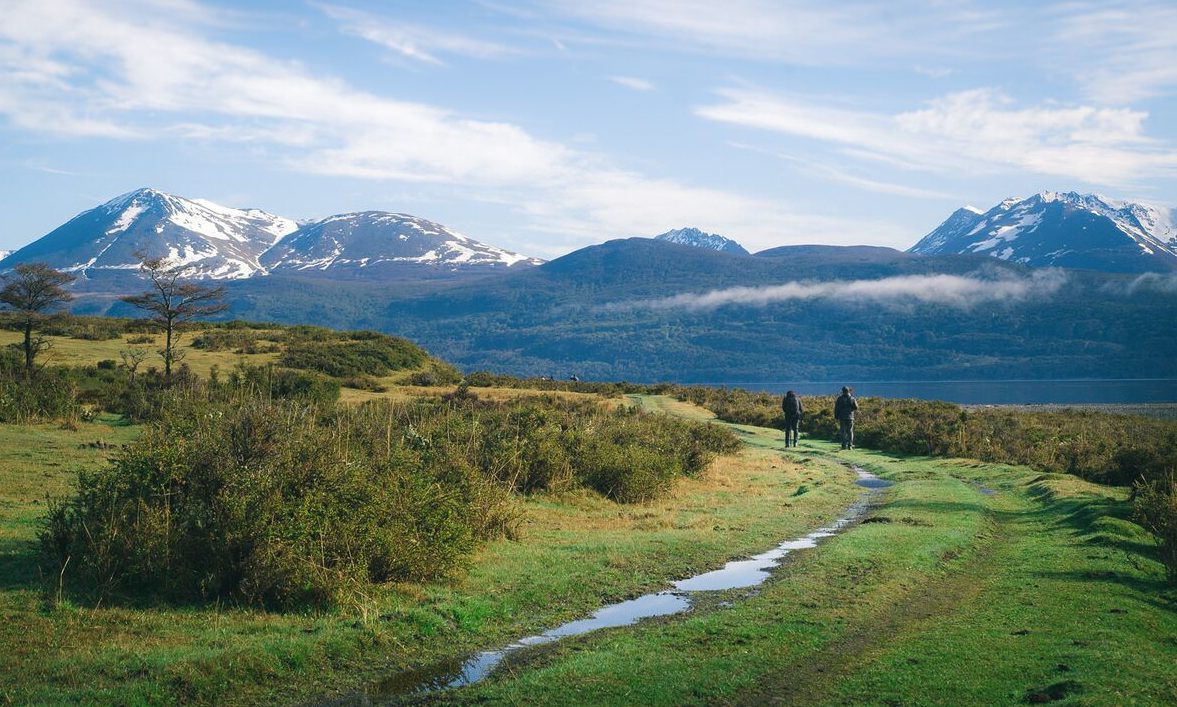 Navarino Island
On this day, the trek will take place over the rocky ground for most of the day. It will begin with a two-hour walk and constant 3 step ascent (716, 800 and 765m) which will take you across the Dientes de Navarino belt to its southern side, where you'll have a spectacular view over Nassau Bay and the Wollaston Islands which make up part of the Cabo de Hornos. Afterward, you'll continue on your way past several lakes, ascending towards the Ventarrón step (696m), which has an impressive view of the south side of the Dientes de Navarino and Mount Codrington. The final section will be a gentle descent until you reach the Guerrico step and then the Martillo lagoon: home to your second campsite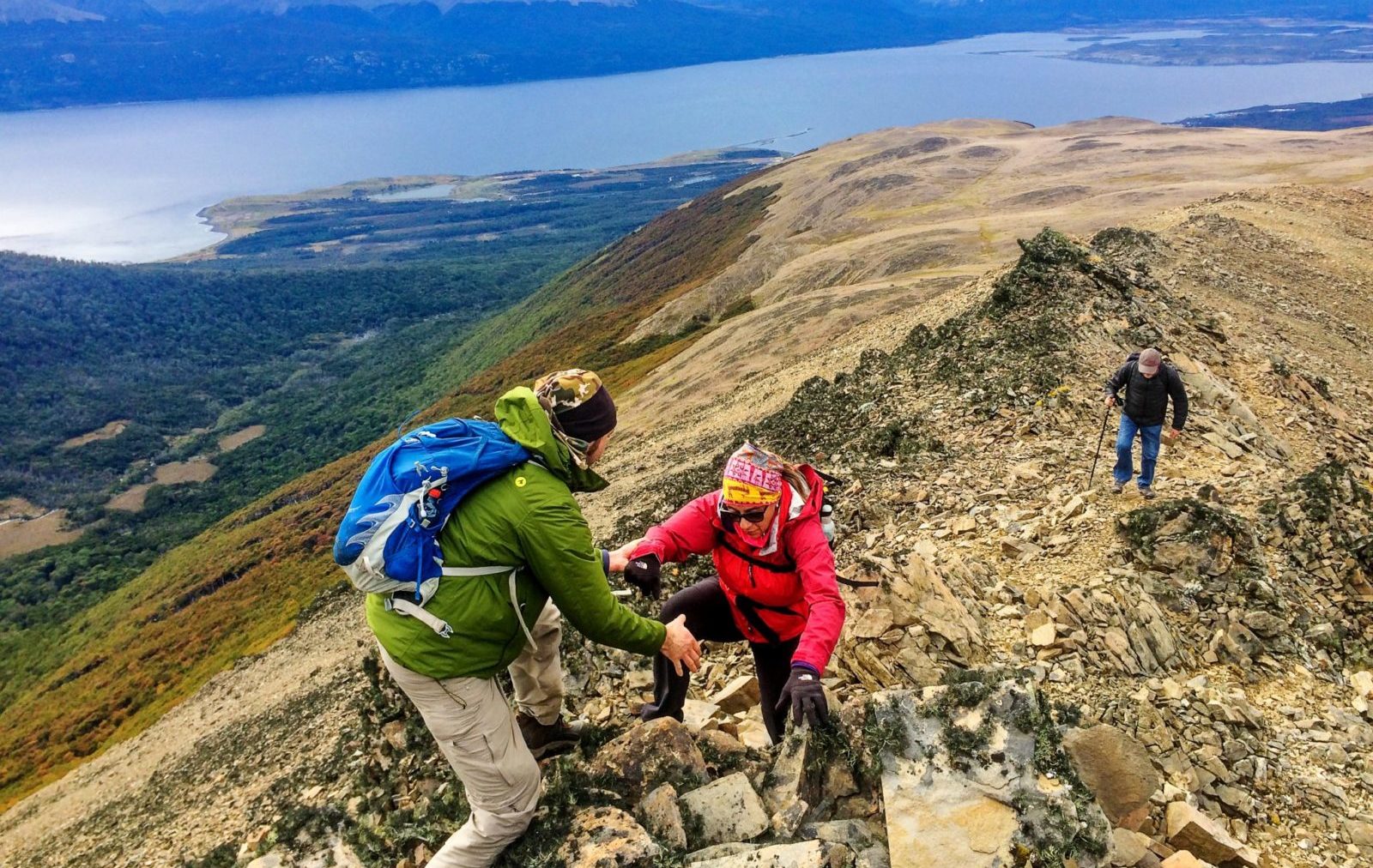 Navarino Island
From the Martillo lagoon, the trek will set off towards Guerrico valley, through wooded areas and rocky terrain. This is roughly a three-hour walk.
You will have beautiful views of the impressive Montes de Lindemayer, and ascend towards the Virginia step (860m high with an incline of 440m in 1.5h). From there, you'll be able to see the mountain and maritime reliefs of the Tierra del Fuego. Then, you'll begin a 1.5 hour descent towards an area sheltered by the forest by the shores of the lagoon, where you'll set up your third campsite.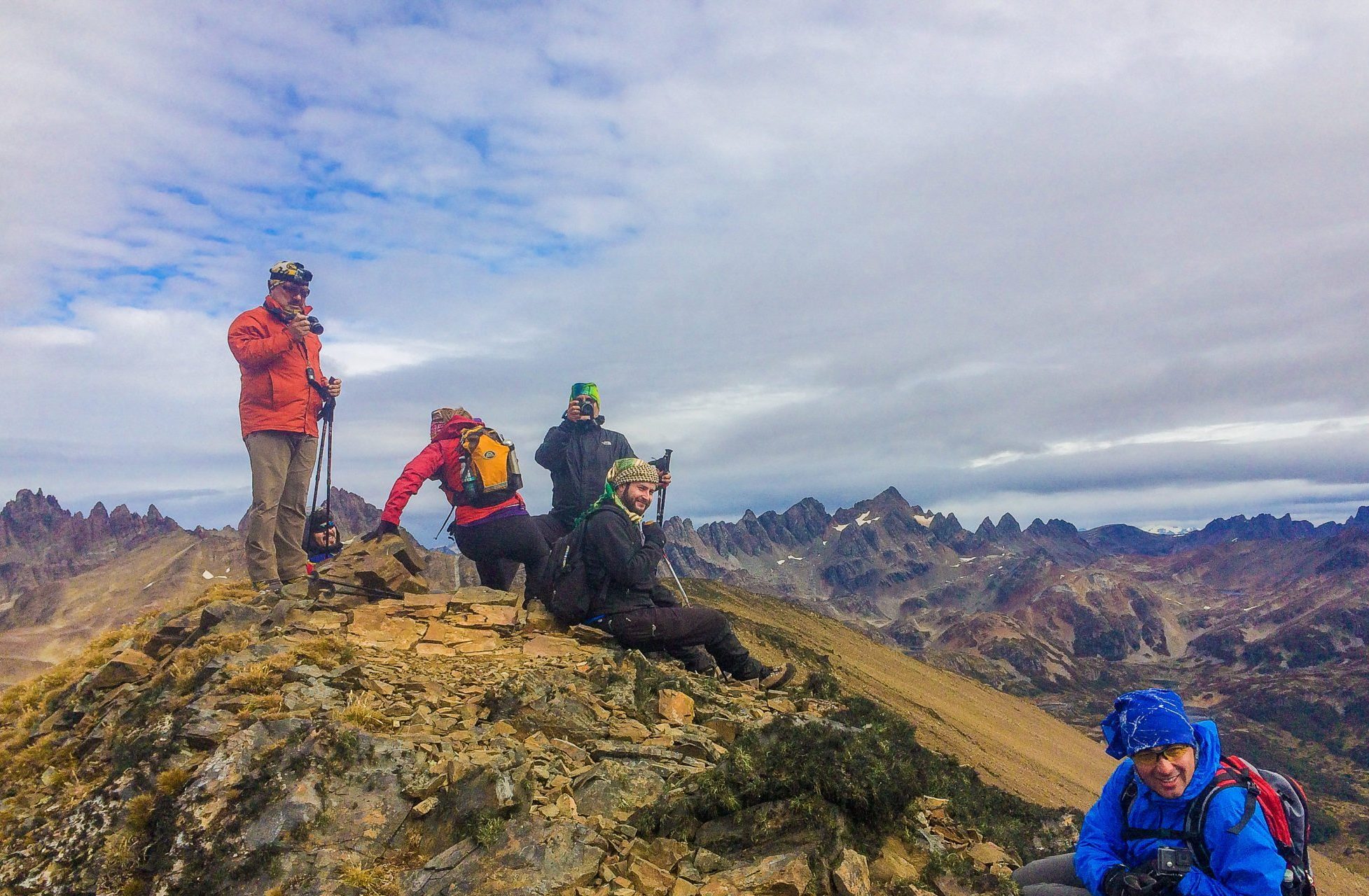 Navarino Island
The final section of the circuit will begin with a continual 3-hour descent to sea level, starting in a woodland area and continuing over clear terrain (460m incline). Finally, you will need to walk around 8km over a gravel path to get to Lakutaia Lodge, where you'll be greeted with an aperitif and then lunch. During the afternoon, you will have free time to rest, explore the town, share experiences and enjoy the Lodge facilities, rounding off the day with a delicious dinner.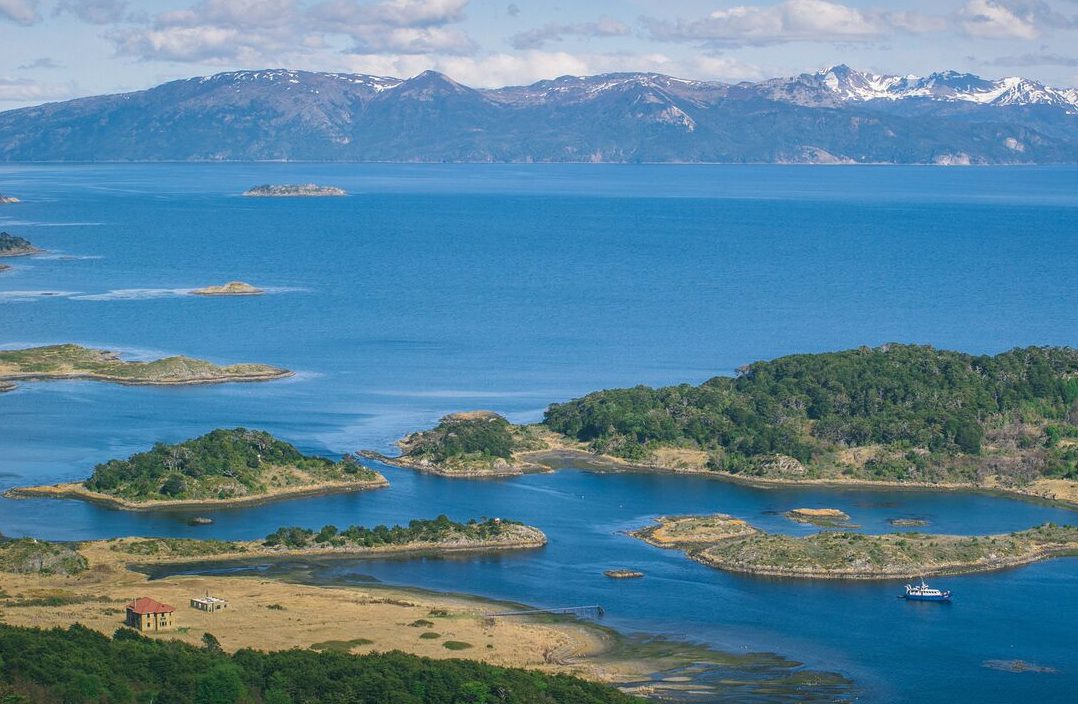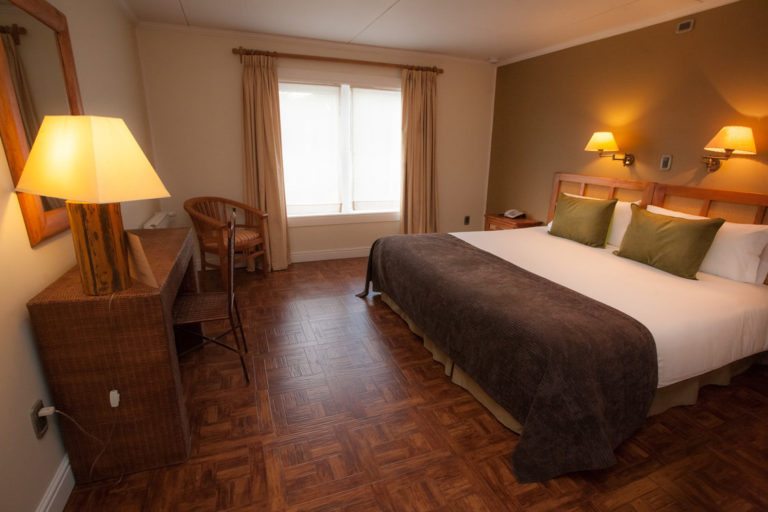 Lakutaia Lodge
Room
Standard
Meals
Full Board
Category
4 star Lodge
Estilo
Remote Hotel
Puerto William, Punta Arenas & Santiago
After breakfast, depending on the time of your flight, you will have time to continue enjoying the Lodge facilities and the surrounding area before you head back to Puerto Williams airport to begin your journey back to Punta Arenas.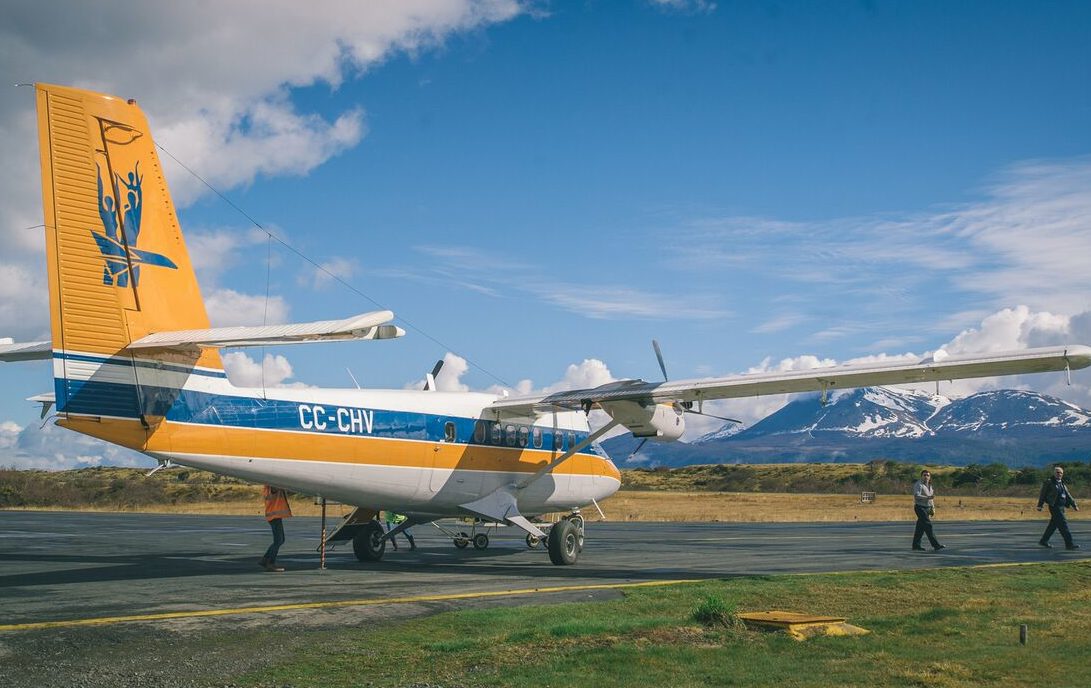 END OF TOUR
Domestic flight Punta Arenas/Puerto Williams/ Punta Arenas.
IN/OUT boarding fees and flights from Punta Arenas.
Full board throughout the itinerary (including wine).
2 nights at Lakutaia Lodge.
3 nights in campsite based on double tent occupancy.
All the equipment necessary to set up camp (tents, sleeping bags, camping stoves, etc.).
Professional bilingual guide (Spanish/English).
Porters during the trekking (one porter every 2 passengers). They can load up to 20 kilos each.
Trekking Poles
Full board throughout the itinerary (including wine).
Day 1: L-D
Day 2: B-S-BL-D
Day 3: B-S-BL-D
Day4: B-S-BL-D
Day 5:B-S-L-D
Day 6: B
Breakfast: B, Lunch: L, Box Lunch: BL, Dinner: D, Snack: S
Insurance of any kind.
Personal belongings
Flight from Santiago de Chile Airport to Punta Arenas Airport
Alcoholic drinks.
Tips.
PRICES AND PACKAGES
LOCATION