Summary
On this trekking tour, we will explore La Campana National Park, founded in 1967 and located just 100km northwest of Santiago in the Valparaíso region of Chile. Along with the Lago Peñuelas National Park, it was declared a Biosphere Reserve by UNESO in 1984 for its importance to the environment, science, education, culture and leisure activities. After collecting our lunch, which we will eat later in the town of Ocoa, we will arrive at La Campana National Park. The park´s name – meaning "the bell" – derives from La Campana mountain, scaled by Charles Darwin in 1834, so-called because of the shape of its peak.
.
We will take the opportunity to warm up before the hike, while our tour guide relays information about the terrain of the 80km² park. Of the many paths there, we will take La Cascada, where we will be able to see wildflowers and butterflies. We will stop at an awe-inspiring viewpoint to gaze out over the Chilean palmas; a tree native to Chile that can grow up to forty meters. In prehistoric times, they covered the entire length of the country, but today, are only found in a few places, such as this park. We'll eat our lunch with a view of the 30-meter high waterfall, surrounded by rocks, cacti and quartz. When we get down, we'll be able to view animals such as degus, foxes, pumas, chingues (a type of skunk), many different species of birds, and even reptiles.
ITINERARY
A palm forest in the coastal mountains
Pickup is at 8:00 and from there, we transport you directly to La Campana National Park. Located two hours outside of Santiago, it´s situated in the middle of the coastal mountains, in a unique and incredible micro-system that has been very important for the development of many species native to Chile's central zone. We will arrive at the park entrance and attend an introductory talk on the day's activities, also touching upon how to go about our hike without interfering with the natural surroundings. We will have a short warm-up and then begin the hike. Our mission will be to reach the waterfall, so that we can rest a while and look out over the Chilean palm forest. During the trek, there will be many things for us to observe, such as the Chilean palma (Juaeba chilensis) – one of the planet's oldest palm trees. Endangered, it is a fundamental element of the park as this is a protected zone for the conservation and preservation of endangered species. If we're lucky, we'll also see countless types of birds such as turcas, house wrens, hen harriers, tit-tyrants, and long-tailed meadowlarks, as well the famous fox and different types of insects such as the Chilean rose tarantula and Acanthinodera beetles. As we walk, we will see how the ground becomes more and more clay-like and littered with fragments of quartz. When we arrive at the waterfall, we will stop to enjoy our food, rest a while and contemplate the beauty of this biosphere reserve. We will arrive back at the park entrance around 5:00pm, and if the group is agreeable, we will stop to sample some of the region's locally produced beers. We will arrive back between 19:00-20:00pm to the hotel.
Highlights
Chilean palm trees
Diverse flora and fauna
Amazing view of the coastal mountains
Sightings of local birds
Interpretative trek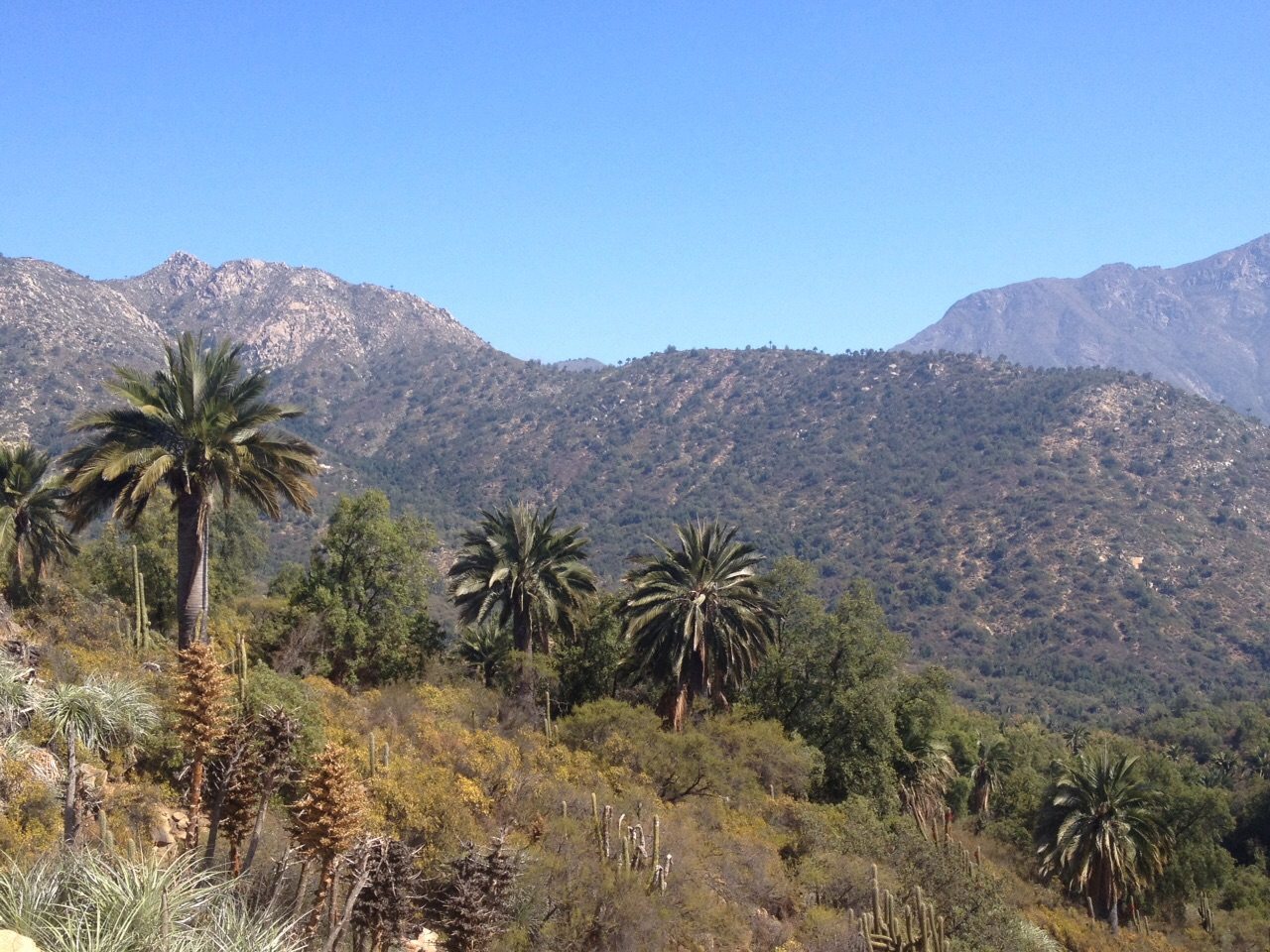 Confirmation will be received at time of booking.
Pick up from Santiago.
Minimum age is 14 years old.
Not recommended for pregnant women, heart complaints or other serious medical conditions
Not recommended for participants with back problems or other injuries
Please advise any specific dietary requirements at time of booking
Our tour guide contacts all the participants the day before the tour with the necessary additional information about the weather and pickup details
IMPORTANT: Subject to favorable weather conditions. If it rains or snows, you will take an alternative route that will be announced.
Availability: All year
Booking details:
Pricing Type: Private
Maximum travelers: 8 or 12 (According the Transportation)
Operates: Daily, subject to availability
Languages offered on activity/tour: Spanish / English
Cut-off Time: 24 hours
Duration: 1 day
END OF TOUR
Transport (Private tours include airport transport if necessary)
Professional driver (Advanced License)
Bilingual tour guide – Spanish and English
Entry fees (in line with the itinerary)
Lunch (sandwich, fruit, dried fruit, cereal bar)
Water
Hiking boots (ask about availability)
PRICES AND PACKAGES

BOOKING
Searching Availability...
LOCATION
Related Trips