Valleys of Martian-red rock, snowless white ground, jewel-toned lakes: all over its more than 40,000 square miles, the Atacama is full of stunning landscapes and cultural sites that astound everyone who visits. But there are some that rise above the rest as being truly emblematic of this unique high desert, which has attracted humanity for thousands of years with its timeless beauty, and who then leave their mark on the land. Made by man or made by nature, these are the top must-visit places in the Atacama Desert.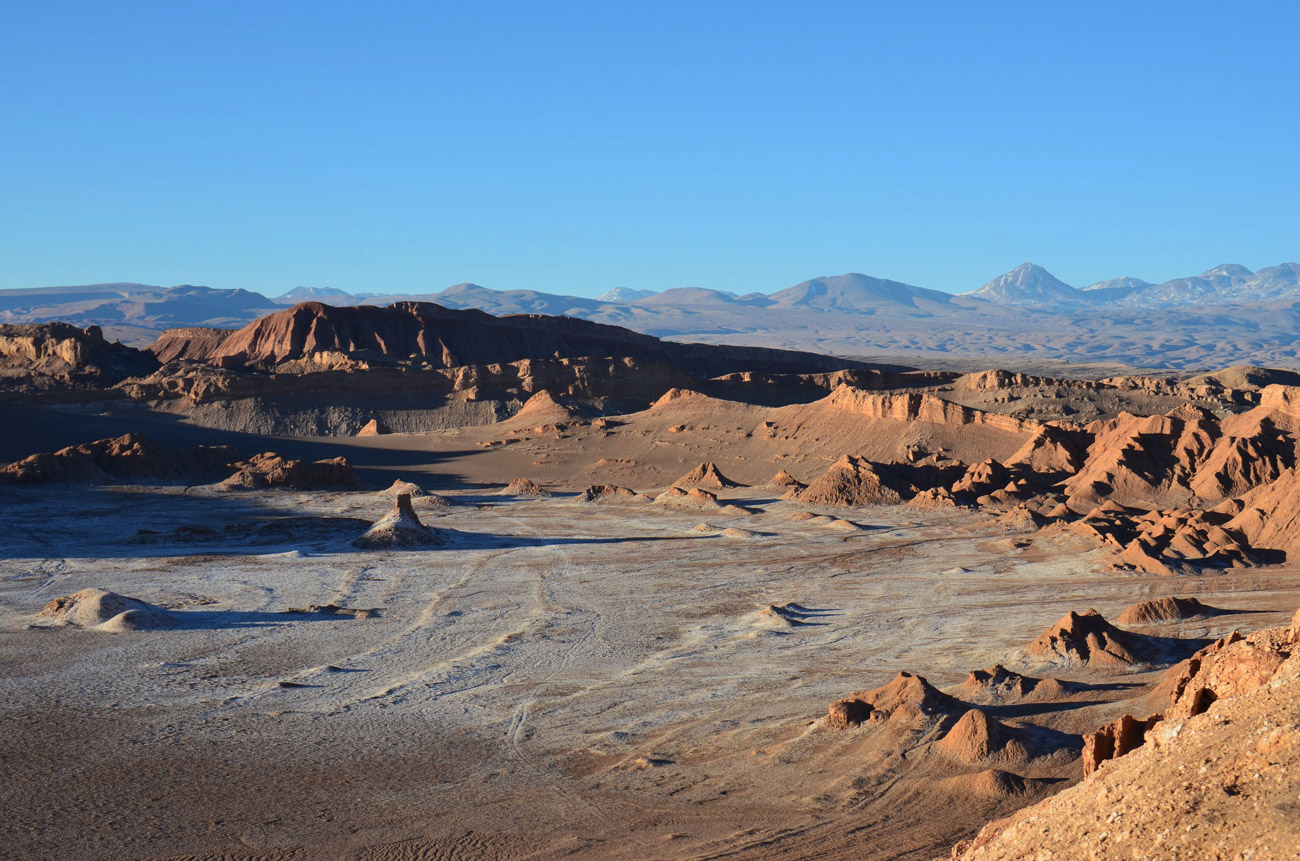 Valle de la Luna
Barely ten minutes from San Pedro de Atacama you'll find a wonderland of otherworldly rock formations, coated in what appears to be snow. But appearances can be deceiving: that white substance covering the ground and craggy walls is actually salt! The Valle de la Luna (Valley of the Moon) is a truly lunar place, with sandy dunes and salt-covered ground hemmed in by rock walls of bright red. There are plenty of hiking paths that lead to amazing viewpoints, as well as driving roads. Best time to visit for views and to escape the heat is at sunset.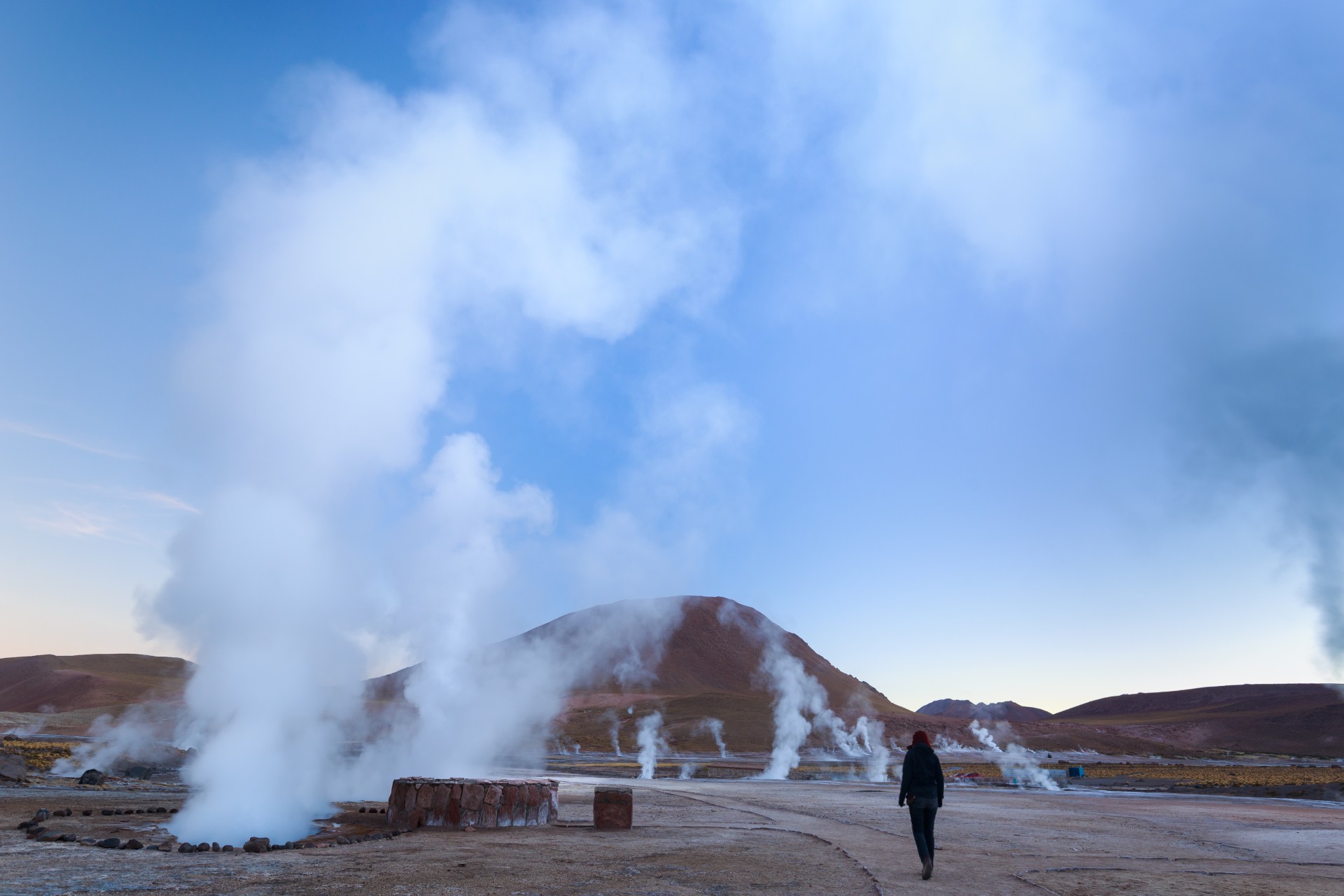 El Tatio Geysers
Roughly an hour and a half from San Pedro is one of the highest and biggest geyser fields in the entire world: the El Tatio Geysers. Meaning either "oven" or "grandfather" in the extinct Kunza language of the Atacameño people, the field is covered in eighty active geysers, as well as hot springs, fumaroles, and sinter deposits (a kind of chemical sediment that forms the strange rock formations found around geysers all over the world). Pathways cross the field allow you to walk past the different geysers and immerse yourself in their plumes of mist and steam at safe distances. It's like something out of a sci-fi movie and, as it's best to visit in the early morning, a great way to start the day.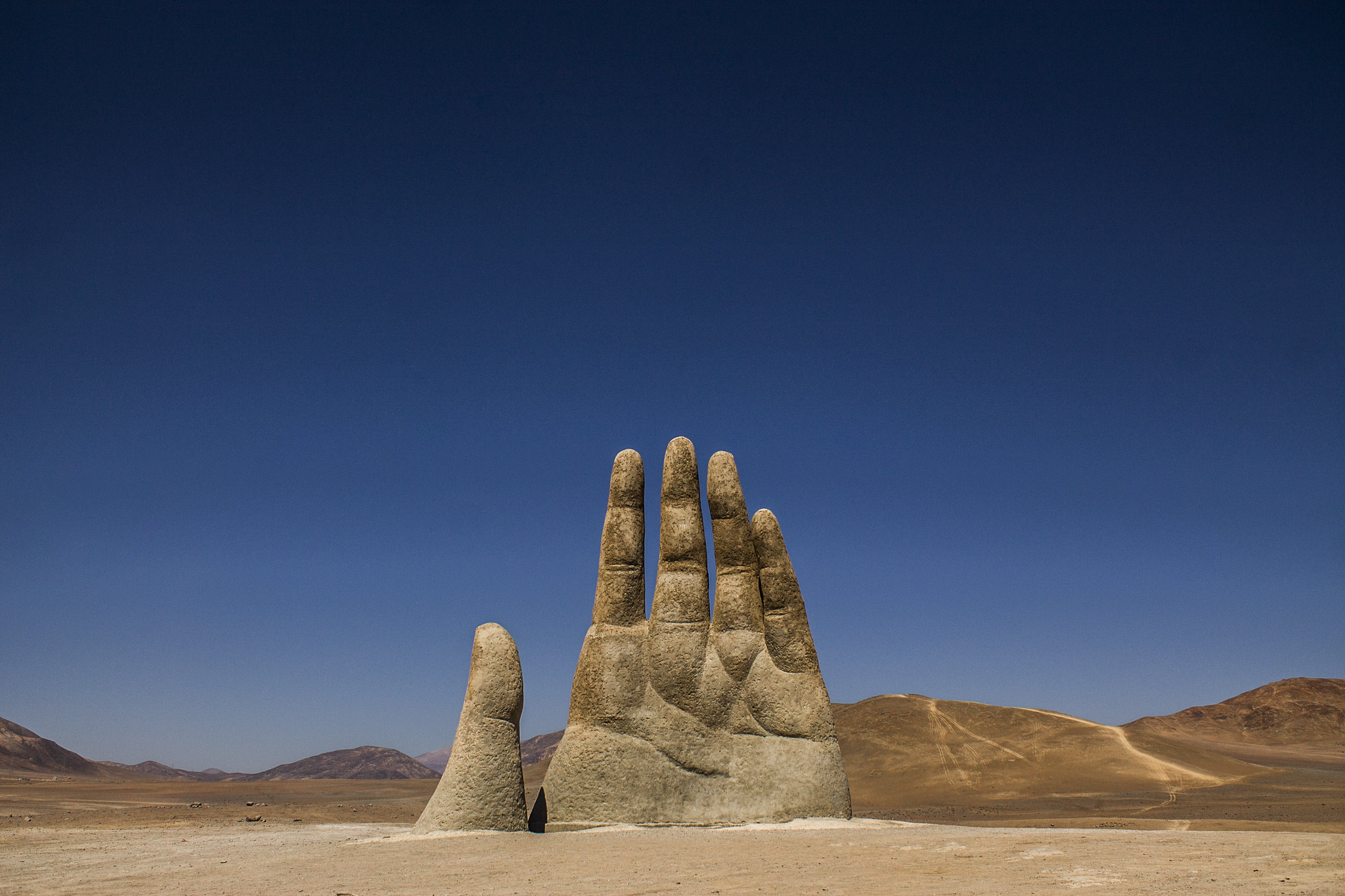 The Hand of the Desert
To reach this giant sculpture of a hand rising out of the desert floor requires a more than four-hour drive from San Pedro, but if you're planning on visiting the nearby port city of Antofagasta or want to go for a long drive, it's worth the trip. Surrounded by stark white desert on all sides, the 11-meter tall hand is a striking contrast to the barren landscape and makes for a fantastic photo op.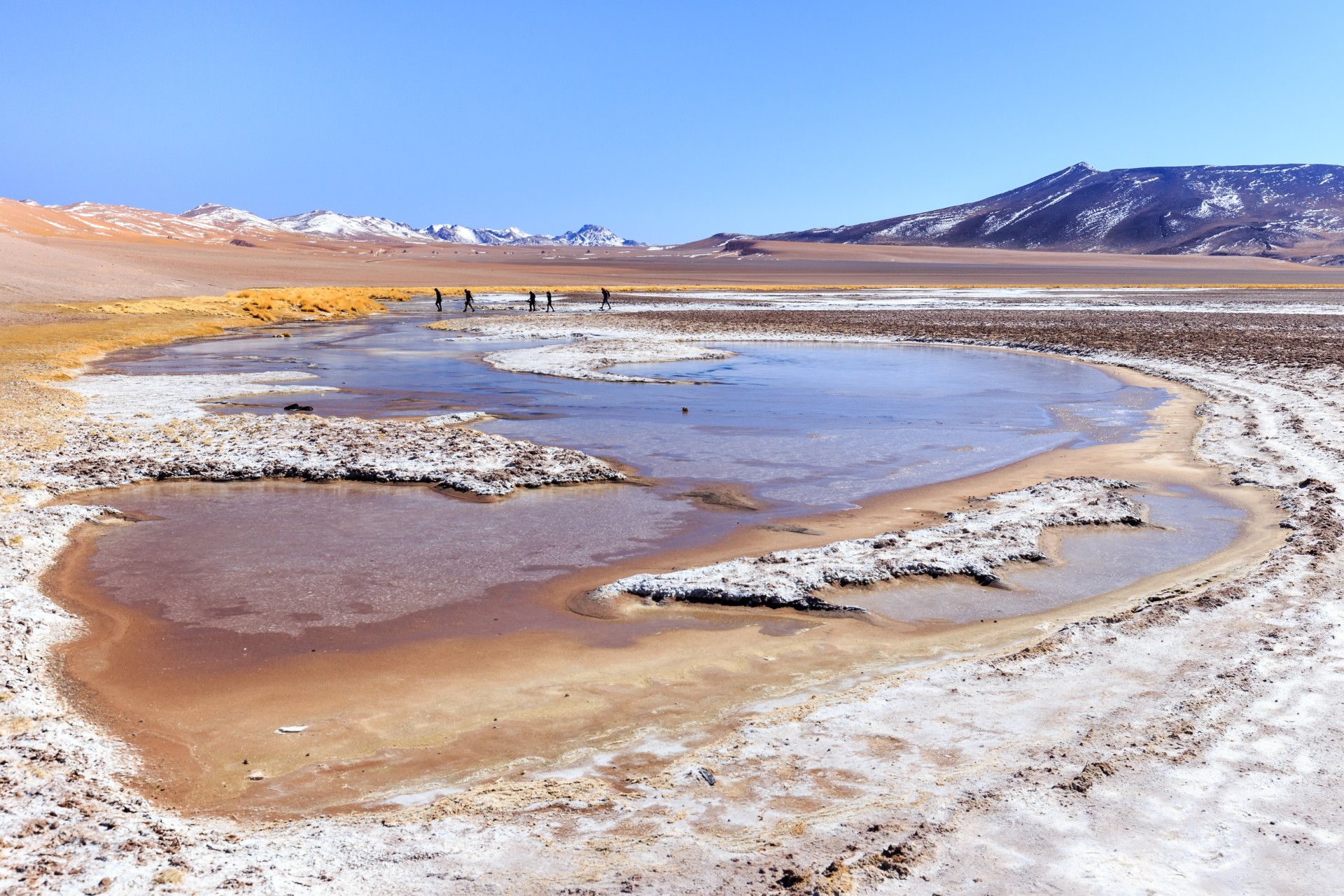 Tara Salt Flats
The Uyuni Salt Flats in Bolivia are by far the most famous salt flats in South America, and while the Tara salt flats may not be as vast, they are equally beautiful. Located within the Los Flamencos National Reserve at more than 14,000 feet above sea level, the Tara salt flats are comprised of flat plains of crusty salt, as well as high desert lagoons frequented by local wildlife like flamingos and vicunas, grasslands, and bizarre rock formations like the Pacana Monks, which are vertical rock stands said to resemble the posture of monks.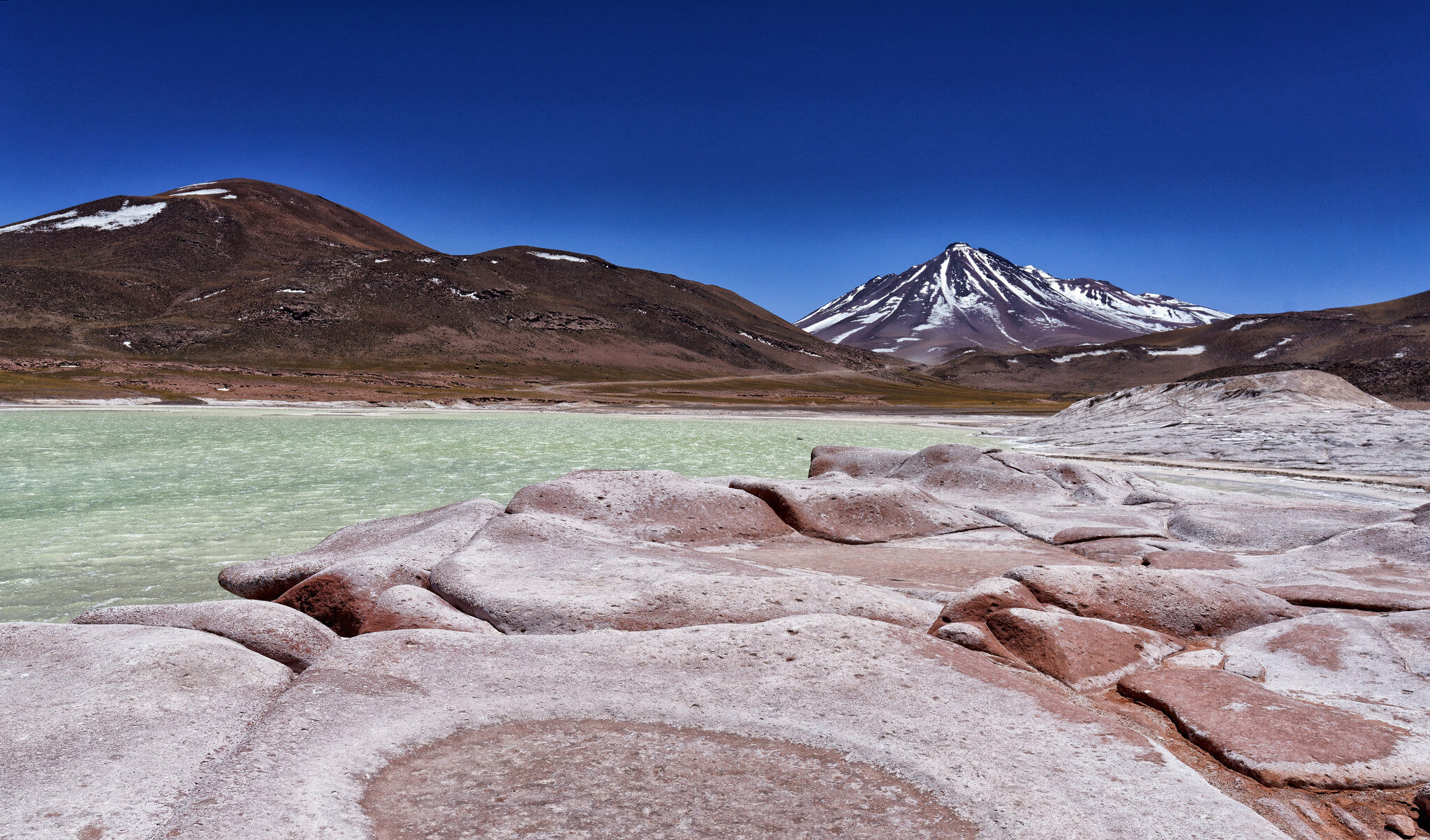 Piedras Rojas
One of the most striking aspects of the Atacama desert is the richness and contrast of colors, from rocks to salt to water, and nowhere is this contrast more apparent and stunning than at the Piedras Rojas (Red Rocks). The expanse of bright-red rocks, which get their tint from iron oxidation,  border on the soft turquoise blue of the Salar de Aguas Calientes lake with colored mountains bordering on the horizon. It's a deeply beautiful landscape and is an ideal spot for nature and landscape photographers.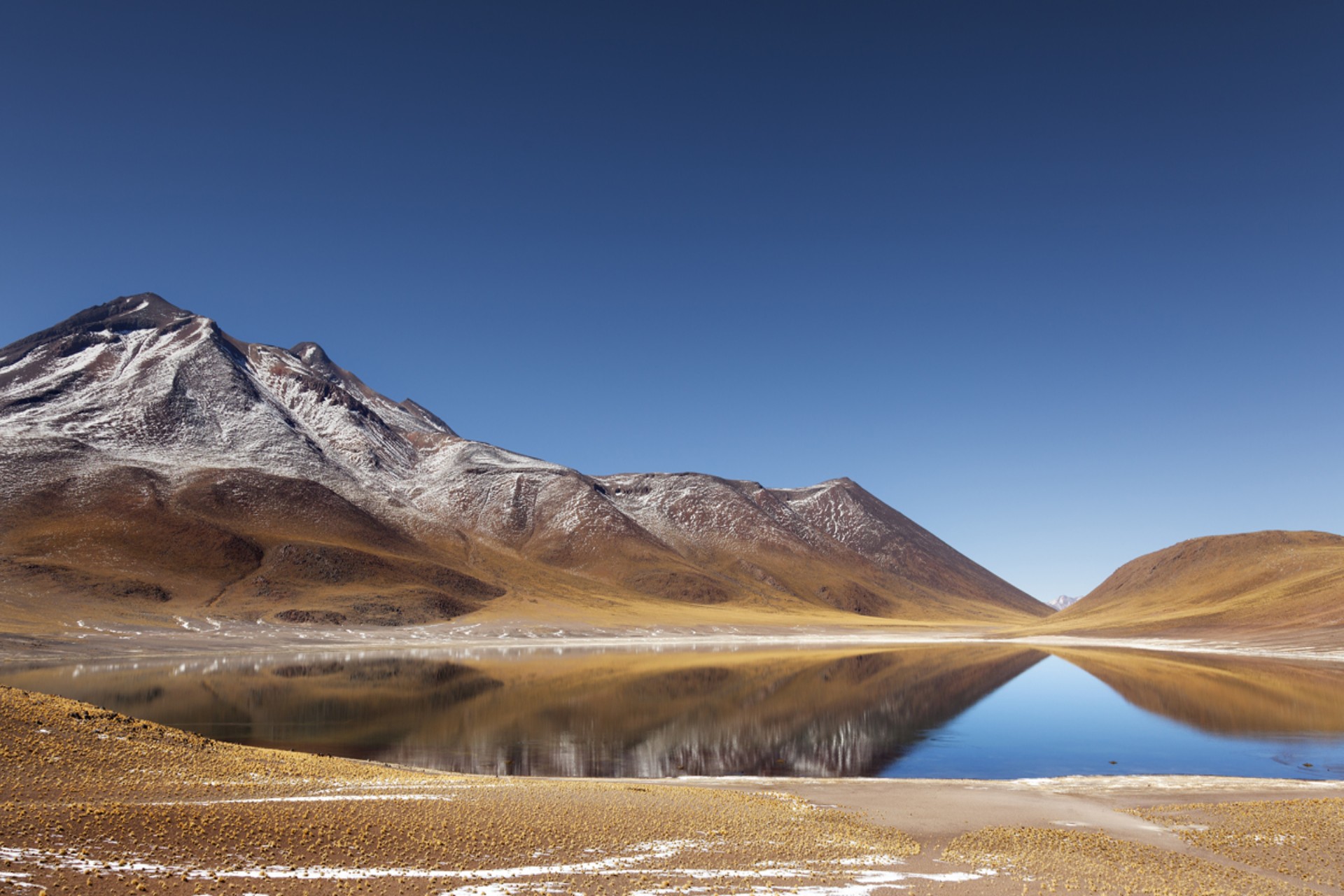 Miscanti and Miñiques Lagoons
Sitting at over 13,000 feet high, nestled in the shadows of colorful hills and snowy mountains, these high-altitude lagoons are about as picturesque as it can get. The blue lakes, whose colors shift in the sunshine, are surrounded by shrubs and desert grass, and they're great sites for bird and wildlife viewing. With no other human dwellings nearby except for the ranger station, here the peace and quiet is total and you can allow yourself to be immersed in this high desert beauty.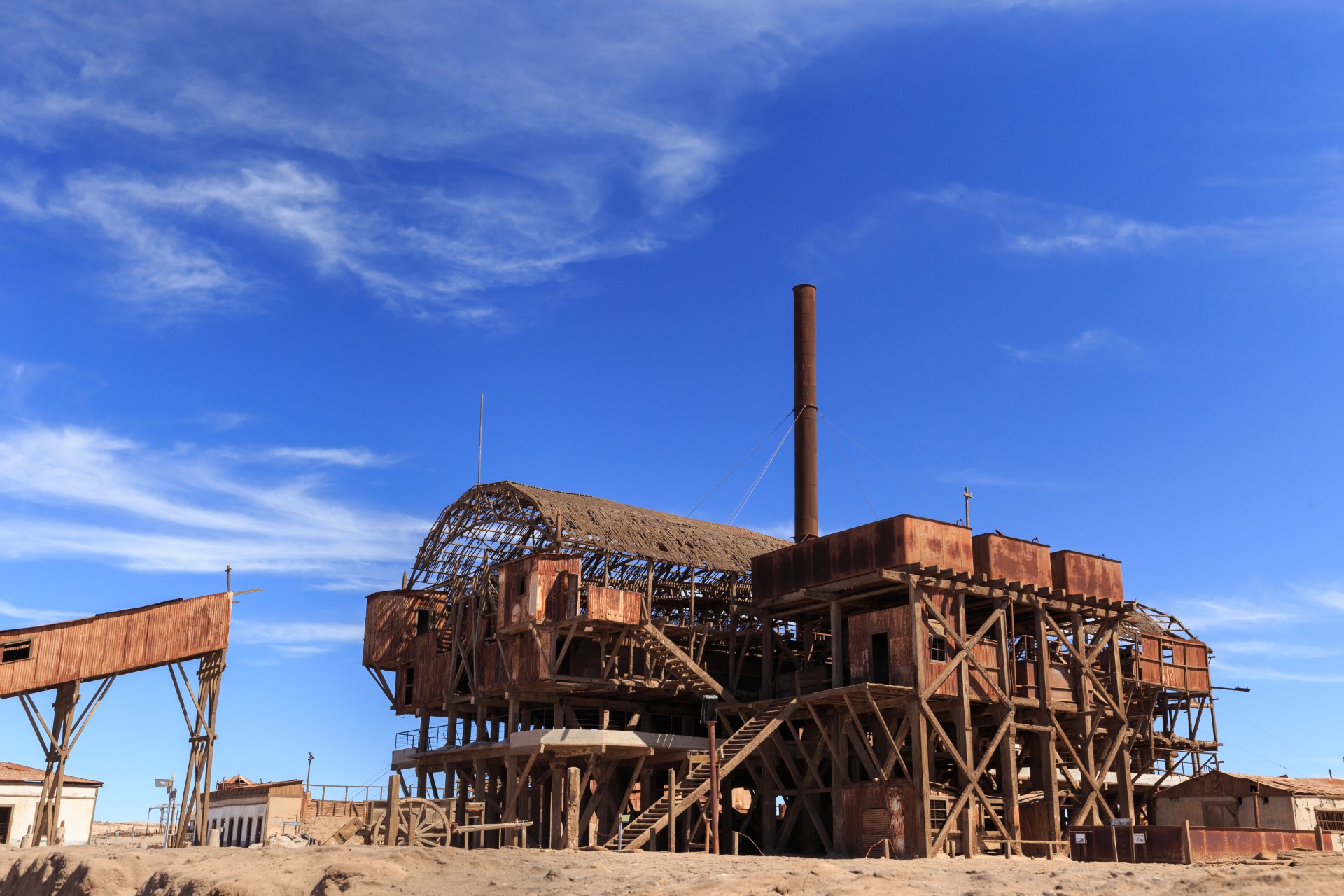 Humberstone and Santa Laura Saltpeter Works
While many people come to the Atacama to experience its wealth of beautiful natural landscapes, it also has a vast, multicultural history, which started with indigenous tribes who either lived in the region or migrated through before the Spanish arrived and then colonists came for the saltpeter boom. Saltpeter, which is another term for sodium nitrate, was mined all over the Atacama throughout the late 1800s and early 1900s. When a synthetic version was created in Germany, the industry collapsed, leaving the region dotted with the abandoned factories and mining towns that sprung up for workers and their families to live in.
One of the biggest and best preserved is Humberstone and the Santa Laura plant. Nearly a five-hour drive from San Pedro, it's only forty-five minutes from the coastal resort town of Iquique, which is a great spot for swimming, surfing, and paragliding off the massive sanddunes behind the city.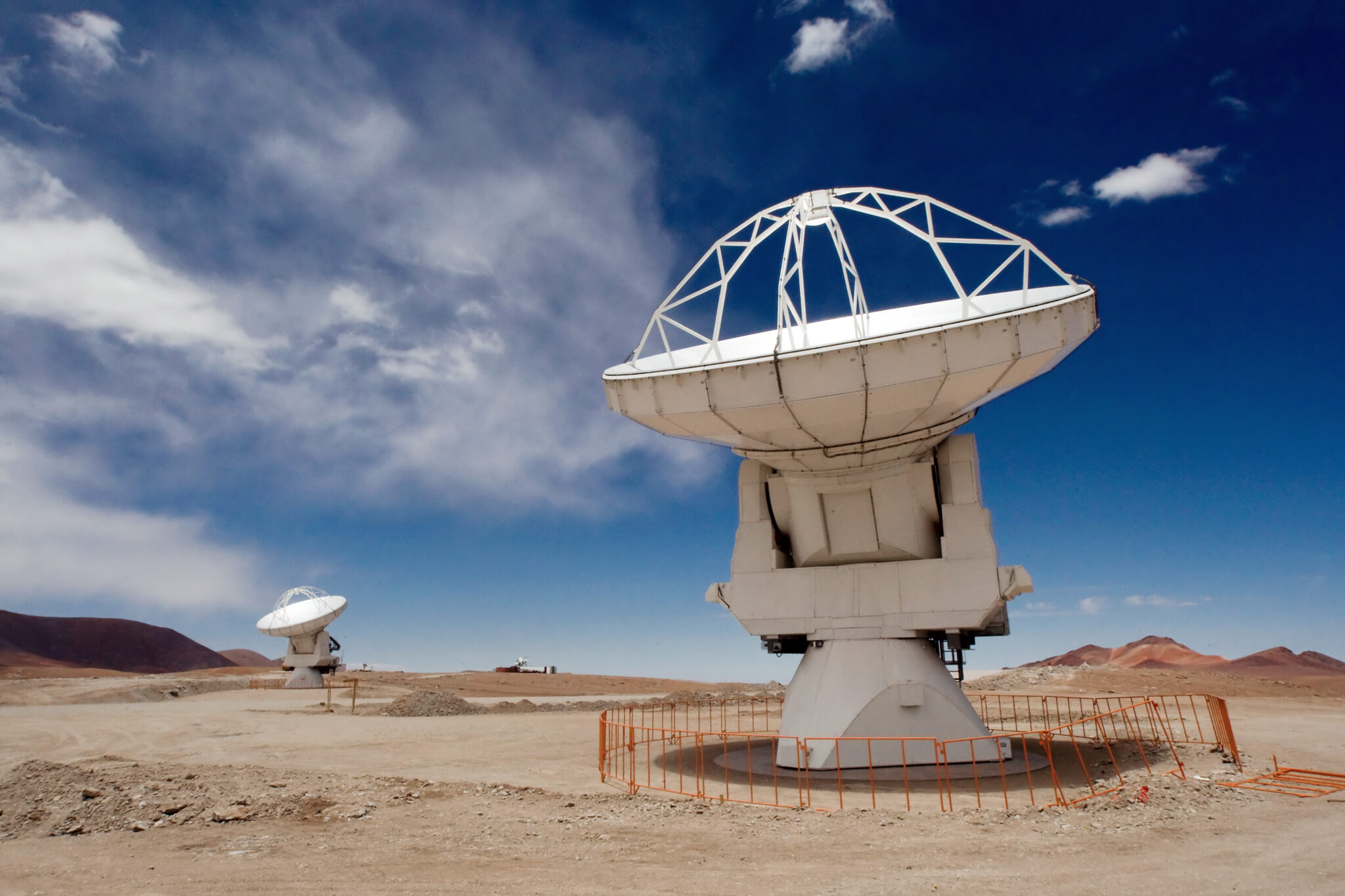 ALMA Observatory
One of the most famous of the Atacama's many scientific observatories, the Atacama Large Millimeter Array consists of 66 radio telescopes that use millimeter and submillimeter wavelengths to probe deep space for answers to the mysteries of the universe. The telescope field and Operations Support Facility are located a short drive from San Pedro on the Chajnantor plateau at over 16,000 feet high. Scientists come from all over the world and wait years for just a few nights at the helm of these telescopes. The facility is closed to the public for night tours but there are day tours on Saturday and Sunday mornings.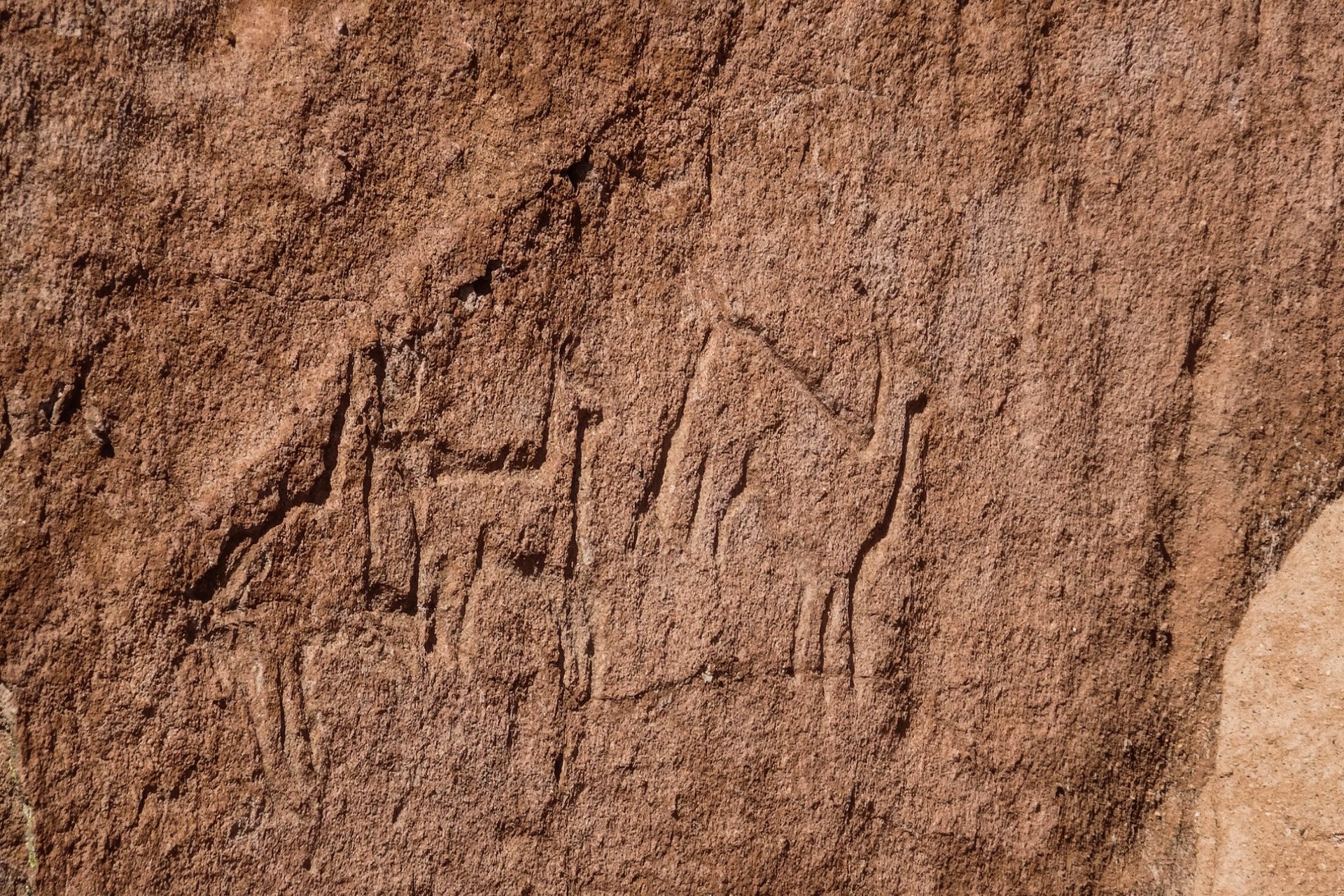 Yerbas Buenas Petroglyphs
Time and nature are ruthless in destroying what humanity builds, but at this pile of red rocks roughly 45 minutes from San Pedro, something of ancient mankind has managed to endure. The rocks are covered in an astonishing array of well-preserved petroglyphs and rock carvings. There are over a thousand in total, many of llamas and other creatures that were important in the lives of the Atacameno people. Dating back 10,000 years, it's a truly awe-inspiring spot that offers a glimpse into the lives and beliefs of a tribe who called this desert home thousands of years ago.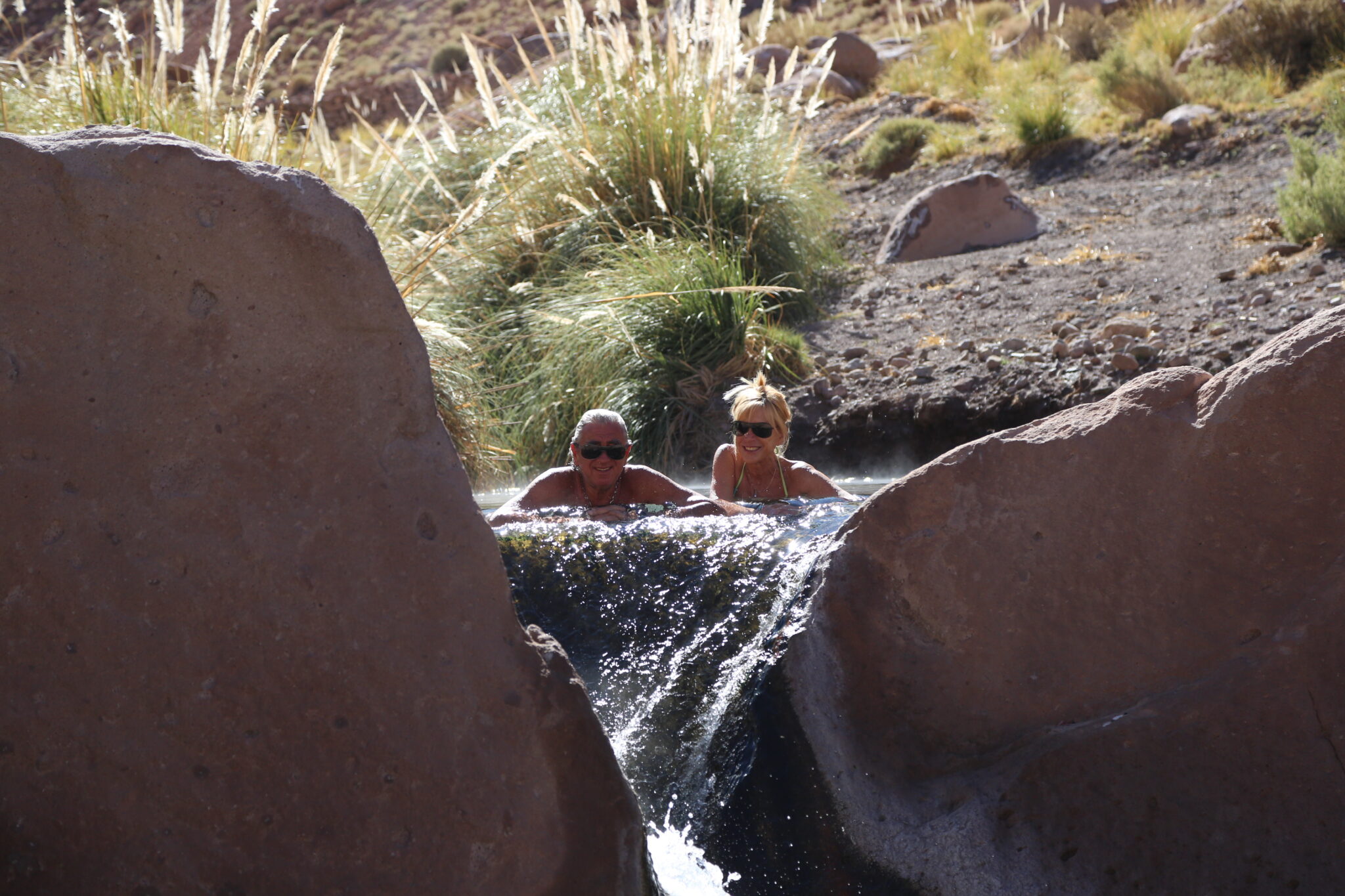 Puritama Hot Springs
Need a day of rest and relaxation? Head out of San Pedro for a day at these secluded hot springs, shaded by desert grass along the bottom of a rocky canyon. A series of geothermically-heated pools are connected by a series of red walkways, and there are bathrooms and changing rooms onsite. Pretty and peaceful, it's a lovely place to escape for a day and relax.