Summary
During this experience, you'll explore one of the world's remotest islands, located in the Pacific Ocean and known as Easter Island and also see Chile's capital. Starting by visiting the city center and exploring some of its main surrounding areas, such as the city of
Valparaiso declared a World Heritage Site, and the Cajon del Maipo in the middle of the Andes mountain. Then you will travel to Easter Island and stay for 4 days and observe and enjoy its amazing natural heritage, including a range of flora, fauna, landscapes, and morphology shaped by nature – a unique cultural heritage site like nowhere else on earth!
Highlights
3-night stay in Santiago city
You will explore the City Center, Cajón del Maipo and Valparaíso City, World Heritage Site
Four-day, a three-night stay in the best hotels on Easter Island.
Visits to culturally valuable archaeological sites such as the Moái and ceremonial centers.
Visit the island's most famous beach, Anakena.
Explore the Rano Raraku and Puna Pau volcanoes.
Tours with professional guide and driver.
ITINERARY
City tour at Santiago's heritage area
Note: This tour will take place on either the first or last day, depending on flight arrival time.
Once you arrive at Santiago airport, our local operator representative and driver will be waiting to take you to your hotel. When you are settled in, at around 2 pm we will begin our excursion in Santiago on a Private City Tour, which will involve a tour around the main heritage sites such as: the government house and its fascinating history, the multicultural Plaza de Armas, the picturesque Central and Vega Market, we will visit the San Cristobal Hill and some of the historic neighborhoods, such as Lastarria, Bellas Artes, and Santiago Centro. Then we are going to have dinner (Included)  in one of the typical restaurants of the bohemian Bellavista neighborhoods. Finally, we will be returning to our hotel.
Itinerary:
Pick-up Hotel from Santiago (PM According to your flight)
Private City tour at Santiago's heritage area
Visit the Central & the Vega Market
Take the cable car of San Cristobal Hills
Dinner in a local restaurant in Bellavista neighborhoods
Drop-off Hotel
Valparaiso & Wine
Our driver will pick us up between 9 and 9:30 am to head to the port town of Valparaiso. On the way, we'll stop in Casablanca Valley to explore and sample some wines from the Emiliana vineyard. Then we'll continue on towards Valparaíso, where we'll explore the UNESCO World Heritage Site on foot. We will visit the port, the Plaza Sotomayor, the Cerro Alegre, Concepcion and Florida hill, using local transport such as the Trolebús and elevators, both heritage elements. We can look at the amazing street art there and learn about the history, architecture, and legacy of the early 20th, late 19th century immigrants who made this city so multicultural and cosmopolitan.
Once we've finished our tour, we will have lunch at a local restaurant (not included) and around 4 pm, we will head back to the capital to get ready for the following day.
Itinerary:
Pick-up Hotel from Santiago (9 – 9:30 am)
Visit Casablanca's winery (Emiliana or Kingstone)
Visit Valparaiso's port, famous hills and historical center
Drop-off Hotel in Santiago (6 pm Approx)
Maipo Valley Road Trip
After breakfast at the hotel, at 7:30 am we will head to the Cajon del Maipo mountains: a large canyon located in the Andes where the Maipo river flows. Its known for its mountainous area, local culture, and geomorphology.
During the day we'll visit one of the main water reservoirs of the central zone, the Embalse del Yeso, where we will do a short, approximately 45-minute hike. There we will be able to take photos, observe the great flora and fauna of the region, and enjoy a delicious cocktail surrounded by nature. Before returning to Santiago, we will end the day by sampling some tasty traditional empanadas.
Itinerary:
Pick-up Hotel from Santiago (7:30 am)
Visit Embalse del Yeso
Enjoy a picnic with local wine in front of the reservoir
Tasty traditional Chilean Empanadas
Drop-off at Hotel (5-5:30 pm)
Flight to Easter Island
After staying in Santiago, you´ll be met by our local operator representative at the hotel. Together you will head to the Santiago airport in order to catch your flight to Easter Island. Once there, a driver will be waiting with a sign with your name and/or last name to take you to the selected hotel in Hanga Roa. After checking in to the hotel you will have a free afternoon. During that afternoon you can take the time to explore the main town on your own, stopping by some handicraft markets, have lunch and dinner at a local restaurant of your preference and prepare for the explorations that will come in the next few days.
The Arrival of the Hotu Matu'a
After having breakfast in your hotel, at 9 am approx your Full Day Tour will begin and you will get to know the island's attractions in more detail. You will start at the archaeological site Ahu Te Pito Kura, where you can see the only fallen Moái that has stayed in that position over time. Then, you will head for the Rano Raraku volcano, where all the island's Moái and other statues were made. After that, you will enjoy a delicious snack at Ahu Tongariki, which is considered to be the biggest built ceremonial structure on the island. It has fifteen Moái, displayed in a row. After looking around, you will go to an ancient ceremonial platform called Ahu Akahang, and round the day off at the beautiful Anakena beach.
Orongo and Ahu Akivi
PART 1: ORONGO – "THE LEGEND OF THE BIRD-MAN"
After having breakfast in your hotel, at 9 am approx you will go to the place where the Bird-man competitions were held in ancient times. This celebration took place annually in Spring, on the hillside of the Rano Kau volcano and in the ceremonial village of Orongo. Here, you will see this volcano, which is considered to be the biggest on the island, as well as the ceremonial village, which is highly valuable both culturally and spiritually, and a cave by the sea known as Ana Kai Tangata. Inside this cave, you can find cave paintings done by the ancient inhabitants of the island
PART 2: AHU AKIVI- "GAZING AT THE STARS"
On this tour, you can see and learn about how ancient islanders connected with celestial and astronomical events occurring above the island. You will explore three archaeological sites while on a hike: the underground cave of Ana Te Pahu, the Ahu Akivi platform with seven restored statues, and the Puna a Pau quarry, which is a crater formed by an ancient volcano
Last day in the island
Your last day on the island. Depending on your flight, you should have time to explore the place by yourself and be picked up from your hotel at an agreed time in the minibus, to be taken to Easter Island airport from where you will return to Santiago.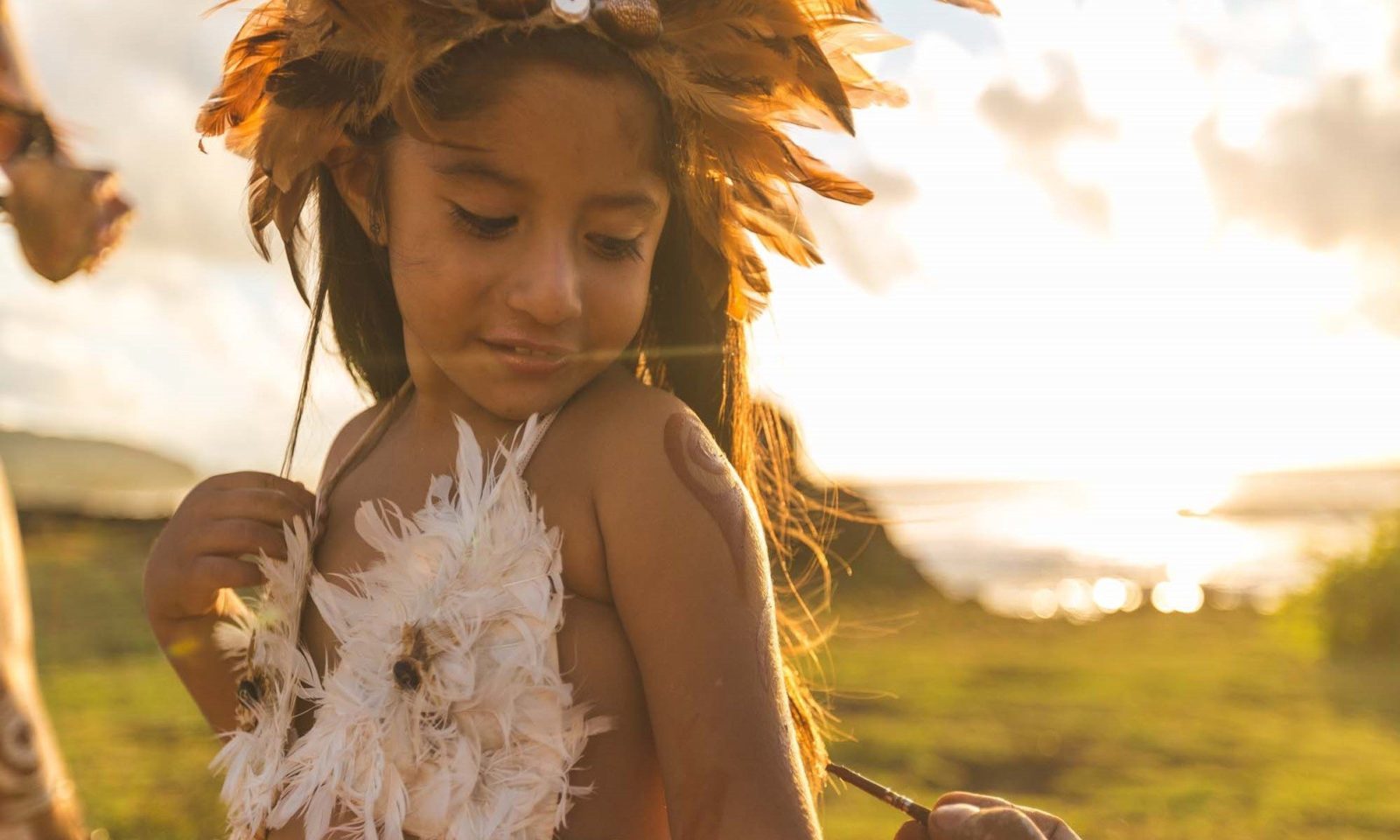 END OF TOUR
Professional, Bilingual Guide
Transportation
Qualified, Licensed Driver
3 private tours in Santiago and surrounding areas
Entrance Fees (according to the itinerary)
Accommodation (according to the itinerary)
Meals (when listed)
-Day 1: D
-Day 2: B
-Day 3: B – P – BL
-Day 4: B
-Day 5: B – BL
-Day 6: B – BL
-Day 7: B
Breakfast: B, Lunch: L, Box Lunch: BL, Picnic: P
Insurance
Airplane tickets
Backpack
Towels
Tips
PRICES AND PACKAGES
LOCATION