Summary
Plunge into steaming thermal springs and admire spectacular views of snow-capped Andean peaks on a full-day small-group tour to El Cajon de Maipo from Santiago. Accompanied by a knowledgeable guide, explore the breathtaking beauty of the Andes mountains on a moderate 5-hour hike; marvel at the jagged spires of the glacier San Francisco; and sooth aching muscles in the wonderfully warm waters of a thermal spring. Convenient round-trip transportation is included from Santiago.
Highlights
Day trip to El Morado Natural Monument with Baños Colinas hot springs at Cajón de Maipo region
Take a 5-hour (round-trip) guided hike in the Andes mountains
Enjoy lunch with stunning views of the San Francisco glacier, snowcapped summit and lagoon
Taste a local wine and soak in the cliffside thermal pools of Baños Colinas, nestled at the base of San José volcano
Capture stunning panoramas of El Cajón de Maipo, jagged peaks and valleys
Box lunch, pickup and drop-off from most Santiago hotels included
ITINERARY
A combination between trekking and relaxation
Depart from your Hotel in Santiago in a comfortable, air-conditioned van to begin the journey into the splendid natural scenery of El Cajon de Maipo. Follow a curvaceous road chiseled into the mountain range, admiring rushing rivers, verdant vineyards and beautifully sculpted rock formations as you travel. Stop at San Jose de Maipo, a traditional town declared the regional capital, to appreciate the quaint architecture and purchase snacks for the energetic hike. Climb back aboard the vehicle and continue to marvel at your scenic surroundings. Feel your excitement heighten as you approach El Morado Natural Monument or an announced alternative route if weather conditions are not favorable. To begin your exhilarating 5-hour hike. Follow your guide through a diverse spectrum of natural tableaus, encountering steep rocky inclines and lush meadows of blooming wild flowers as you walk; gaze at the jagged snow-capped spires of the Andes as you keep your eyes peeled for graceful condors gliding up above. Enjoy a well-deserved rest with the majestic view of the Andes after a 2.5-hour ascent; admire the frozen witchery of the feature while eating a fulfilling box lunch consisting of a fresh sandwich, fruits and snacks for your hike. Marvel at the enchanting vision of El Morado's Park as you absorb the tranquility of the enclave. Next, return to the vehicle and indulge your aching muscles in the therapeutic waters of the Banos Colinas; inhale fragrant mountain air as you massage your muscles in the steaming hot waters of the natural springs. After a relaxing respite in the springs, return to your vehicle and sink into the comfortable seats for the journey back to Santiago.
Short Itinerary
Hotel Pick up from Santiago (between 7:00-8:00 AM)
Stop at Cajon del Maipo local Market
Trekking at Natural El Morado Park or similar
Boxed Lunch at the Glacier area or Morales lagoon nearby
Colina Hot Springs
Hotel Drop-off (20:00 – 21:00 PM approx)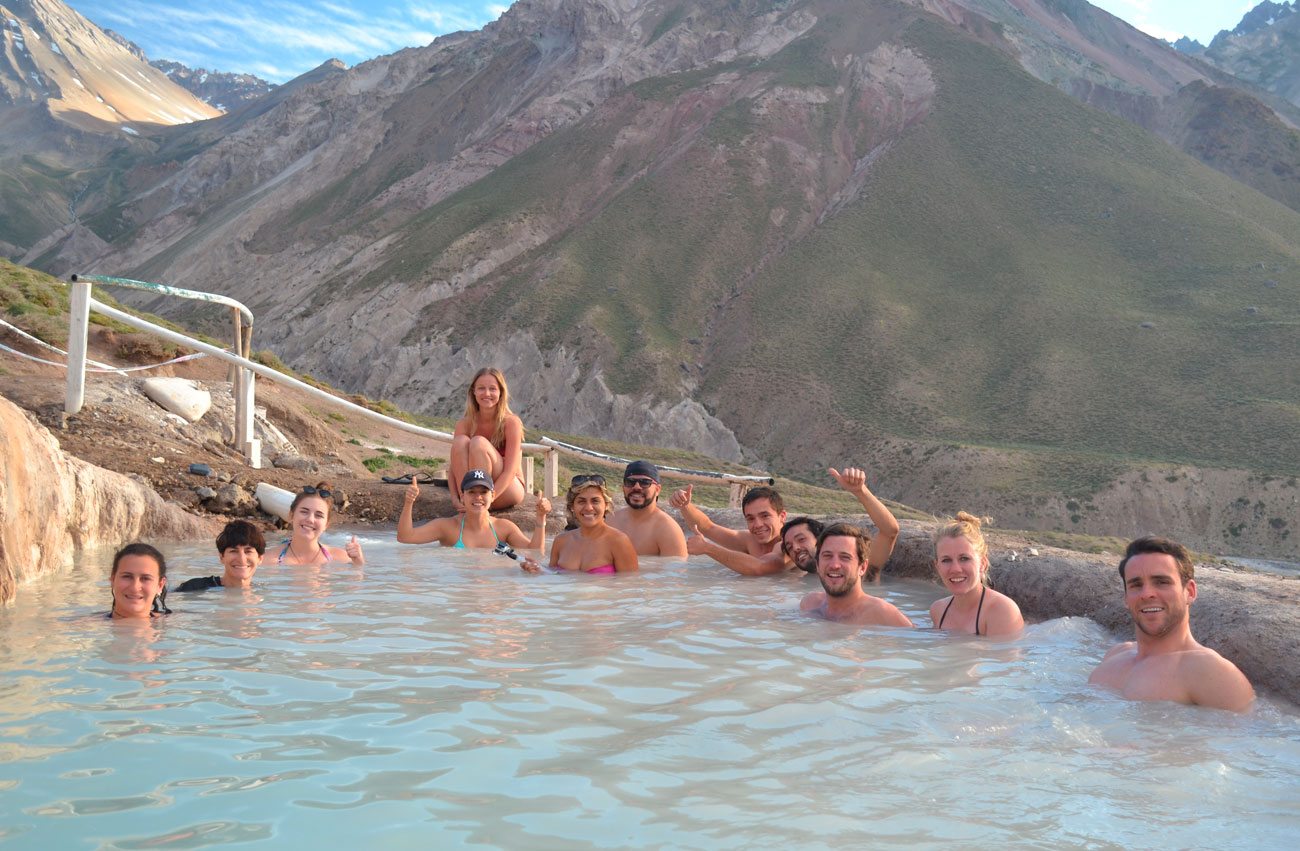 Confirmation will be received at time of booking
Pick up only in few areas from Santiago. (Check pickup-zone details)
Minimum age: 14 years old
Not recommended for pregnant women, people with heart troubles or other serious medical conditions
Please advise any specific dietary requirements at time of booking
Our tour guide contacts all the participants the day before the tour with the necessary additional information about the weather and pickup details
Subject to favorable weather conditions. If it rains or snows, you will take an alternative route that will be announced. Snow not guaranteed on summer and autumn season.
Availability: October to June
Booking details:
Pricing Type: Per person
Maximum travelers: 7 or 12 (According the Transportation)
Operates: To a Schedule
Languages offered on activity/tour: Spanish / English
Cut-off Time: 24 hours
Duration: 1 day
END OF TOUR
Small-group tours (maximum of 7 or 12 people)
Transportation (Hotel pick-up and drop-off)
Driver (Professional License)
Tour Guide (Spanish – English)
Boxed lunch (Please advise if any restrictions)
Wine and juice
Cheese and snacks (Local Products)
Insurance
Swimming bath suit (Hot Springs)
Towel & Sandals (Hot Springs)
PRICES AND PACKAGES
LOCATION
Related Trips