Chile is a very long country and its climates vary from deserts to sub-tropical to plateau. When you know where you want to go, here are our top tips to decide when for the best weather, availabilty of hotels, and prices! 
---
Patagonia

Shoulder Season
If you want to experience smaller crowds and save some money, you may want to consider visiting Patagonia during the shoulder season from October-November and March-April, when there are fewer tourists and the seasons are starting to change. 
Spring 
Spring in Patagonia occurs from September to November. While the temperature is still a bit chilly, it begins to fade into milder, warmer weather.
It's also a great season to avoid the crowds; with hiking trails throughout the region reopening after winter, visitors will find national parks and landmarks relatively quiet, having the advantage to see animals that the bigger crowds might drive away, such as pumas!
Patagonia's climate in the springtime will be the wettest as the winter begins to melt away and winds are usually high. Yet you will gain the advantage of seeing Patagonia change from freezing winter into the colorful tones of Spring.
Fall
Due to the great geographical diversity of Chile, there is a very particular attraction at this time. Depending on the town you visit, you can find an impressive variety of colors and contrasts.
In Patagonia, the reddish and yellow colors are contrasted with the green moss and dark browns of the logs and ground. When there are early snowfalls, we can appreciate an additional attraction to this landscape.
The Ocean and the Coastal Mountain Range are other places with great vegetation and are completely stained, giving us stunning views of the mountain and sea. 
What are the advantages of traveling during fall?
Along with its incredible landscapes, most of the destinations go into the low season, so it is possible to visit these places with fewer people. Every year it becomes more popular to travel in these so-called "shoulder seasons" so destinations are increasingly prepared to receive adventurers. Many professional photographers visit these places during this season of the year.

Winter Season (Low Season)
Patagonia in the winter is between June and August. It is a season that hasn't been as popular in the past due to the harsh weather, extremely cold temperatures, and snow/ice. However, it is a season that is gaining more and more popularity because of the unique and amazing landscapes that are only possible to see during winter, such as the peak of the towers with snow!
It is a season that is certainly for the adventurous souls seeking to experience the raw wilderness of the region, at a time when you'll see a significantly small number of tourists.
While hikes such as the O and the W circuits are closed, there are ways to experience Torres del Paine in an adapted way. Such as the Carretas Hike, the Portería to Portería traverse, full-day Paine or Base of the Towers winter hike.
One thing to have in mind when visiting Patagonia in winter is to have more full days available, so you can switch days for the activities evaluating the weather locally.
Summer Season (High Season)
The Patagonia summer season goes from December to February; these are considered the high season months when temperatures can reach 72 degrees, making this season the most wanted. There is also a much clearer sky during this time, therefore, it is less likely to get a cold day for your photos at the base of the Towers or Glacier Grey. Patagonia is very unpredictable, though, so the weather is not always consistent! 
This season is also known for its extreme winds that can reach over 120 miles/hr. Usually, larger groups come to Patagonia at this time as the weather is generally more stable.
Usually, summer weather in Patagonia is ideal, with all the trekking trails open and in perfect condition. All of the most iconic hikes are easily accessible, such as the Tower base, French Valley and travelers can explore the area and its wildlife in its abundant glory.
---
Easter Island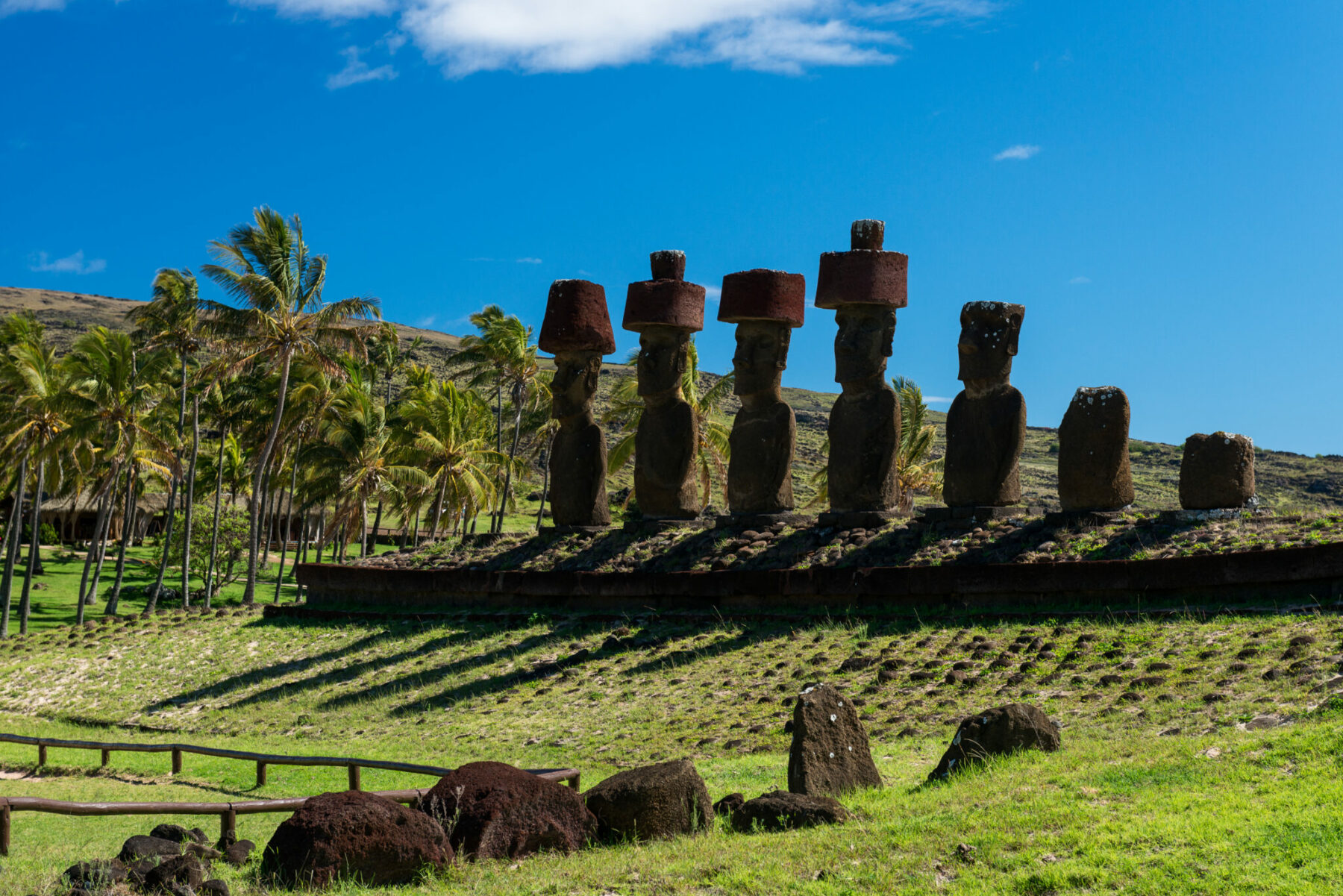 Easter Island is a magical destination that, for most people, might be a once-in-a-lifetime journey because of the remoteness. Therefore, it is very important to know which is the best time to visit Easter Island.
All seasons are great to visit this mysterious island, it's just a thing about your interests, availability, and budget.
Summer Season
The summer season in Easter Island begins in December and runs through the end of March. Temperatures are higher, so temperatures are ideal for those who enjoy sunbathing and swimming in Anakena Beach, but can also be slightly suffocating for those who seek to explore by bike or hiking.
This is also the time for summer vacations in Chile, so plane tickets and hotels tend to raise their prices.
In February, the Tapati Rapa Nui festival takes place. This is the most important cultural event in Easter Island, where the population is divided into two clans that get through different tests and competitions to choose the Queen and King of the island.
To attend this unique festival, you need to plan your trip several months in advance to find reservations and reasonable prices for plane tickets.
Low Season
This season extends from late March until November. Temperatures tend to be "lower", but Easter Island is a subtropical island so temperatures are warm and humid in the summer and more mild in winter. The average daily temperature ranges from 23/24 °C (74/75 °F) in the period from January to March to 18.5 °C (65 °F) in the period from July to September, making the milder temperatures ideal for exploration by bike and hiking. 
Low season prices are more convenient and you can find better offers for flights and accommodation. The number of tourists is significantly lower, so attractions are less busy and there are more hotel options.
---
Atacama Desert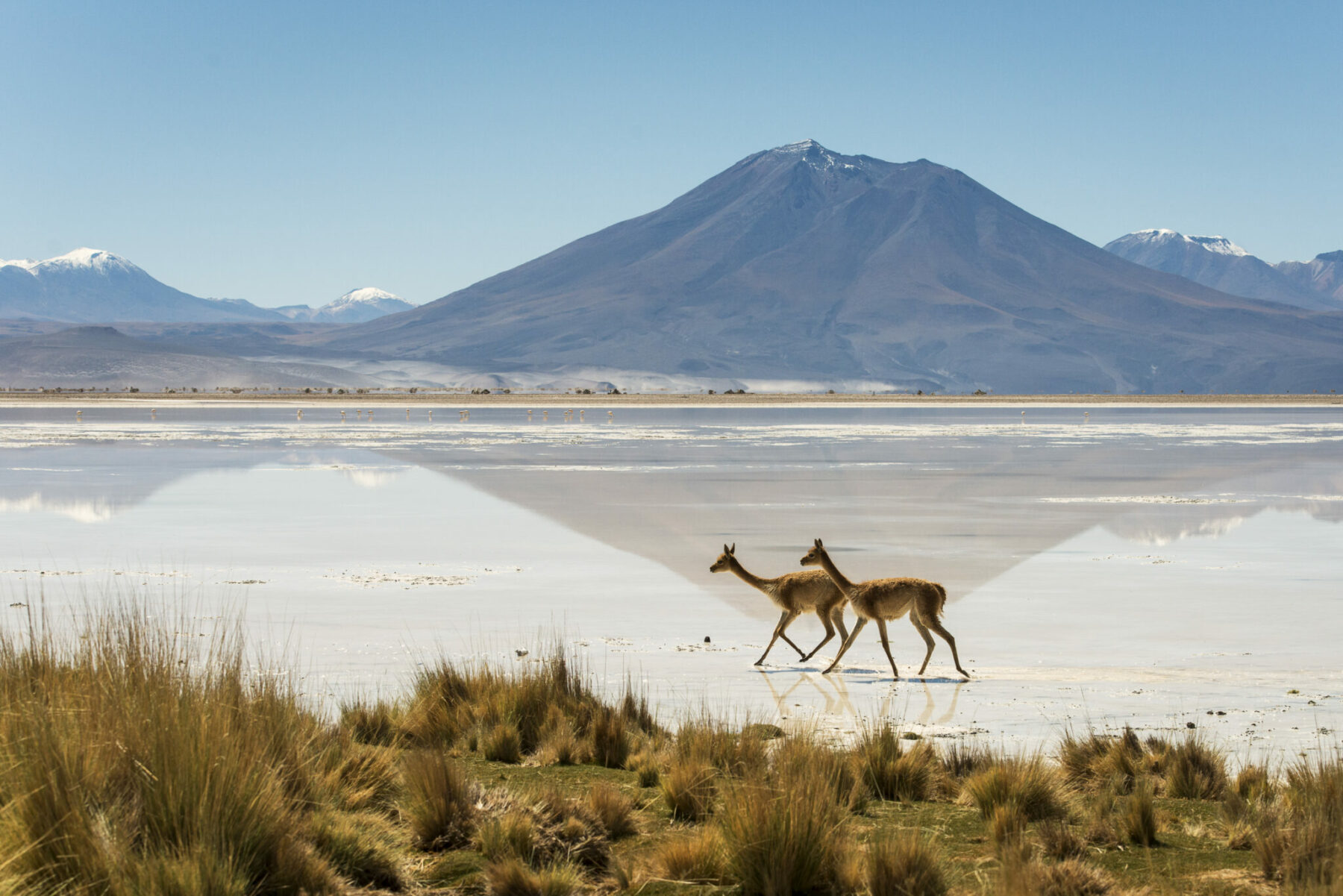 The Atacama Desert is a place you can visit all year round with amazing views of lunar landscapes, geysers, altiplanic lagoons, and pink flamingos. It is the perfect place to experience remoteness!
High Season
It runs from December to February and is the most popular season for exploring the Atacama Desert. The refreshing day temperatures and warmer nights make for a pleasant time to travel to the desert.
For the best stargazing, the high season is the time to visit. The sky is incredibly clear all year round, but nights during the winter season months are very cold, making stargazing in summer more pleasant since this is an activity that needs to be done at night. 
The summertime also brings an increase in humidity, with rainfall not entirely uncommon at this time of year.
Low Season
The low season starts in March and runs until November. While nighttime in the Atacama does get a bit brisk (around 28 degrees Fahrenheit on average), most of the days are still sunny and clear with average highs in the 70s, allowing for days full of adventure and exploring instead of being stuck inside. 
Traveling during the low season always brings the bonus that there will be much fewer tourists around, which can make visiting sites like the Tatio Geysers or Chaxa Lagoon a much more peaceful experience.
There is a lower demand for accommodation, so there are better deals too!
---