With the advent of the Internet and the popularity of travel guides and travel blogs, it's easier than ever to find out information about places you want to visit. It can help you plan your trip better, make arrangements in advance, and decide on what you want to see and do. But even with all that info floating around, there are still things that can surprise you when you reach your destination.

Doing some research in advance is especially important if you're traveling to an isolated place like Easter Island. Located 2,182 miles from the mainland, here you are literally in the middle of nowhere. It definitely helps to be prepared and know what to expect! What kind of money should you bring? Are there ATMs? How can you get around the island? Not to fear, we've got you covered! Here are 9 things I wish I knew before visiting Easter Island.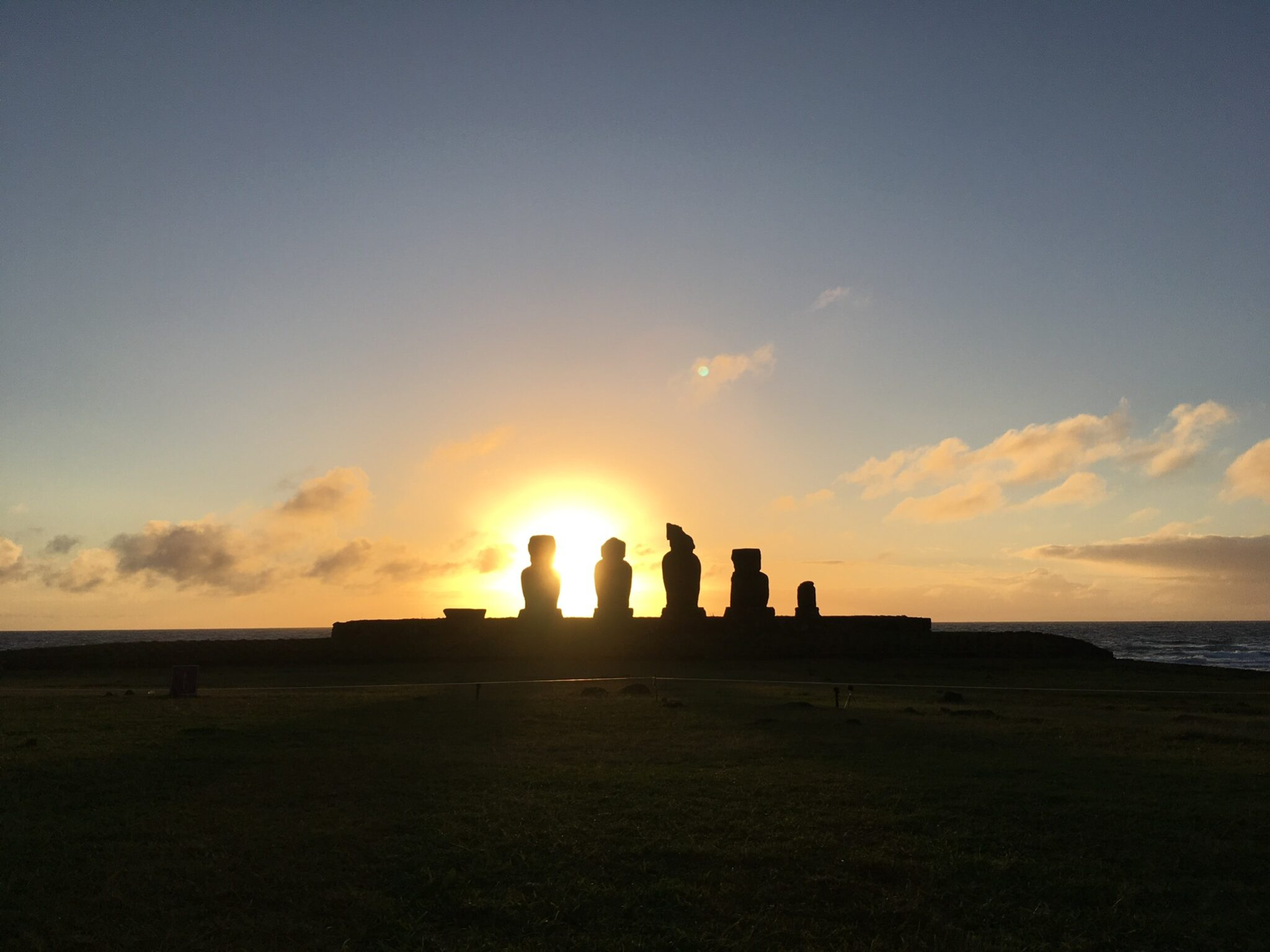 1. You won't always have Internet
Easter Island is extremely isolated and, in many ways, cut off from the rest of the world. While it has modern infrastructure and amenities, the distance means that sometimes the Internet doesn't want to cooperate. WiFi is only available in the main town of Hanga Roa at hotels and Internet cafes (most restaurants don't offer WiFi) but even then, the connection can be patchy.
In 2016, the Chilean government implemented its WiFi ChileGob program on the island, a public service project that provides free WiFi in public places. However, this too is only available in Hanga Roa and doesn't always work. But being on a tropical island in the middle of the Pacific seems like the perfect place for a digital detox, so feel free to ditch the devices and focus on enjoying your stay!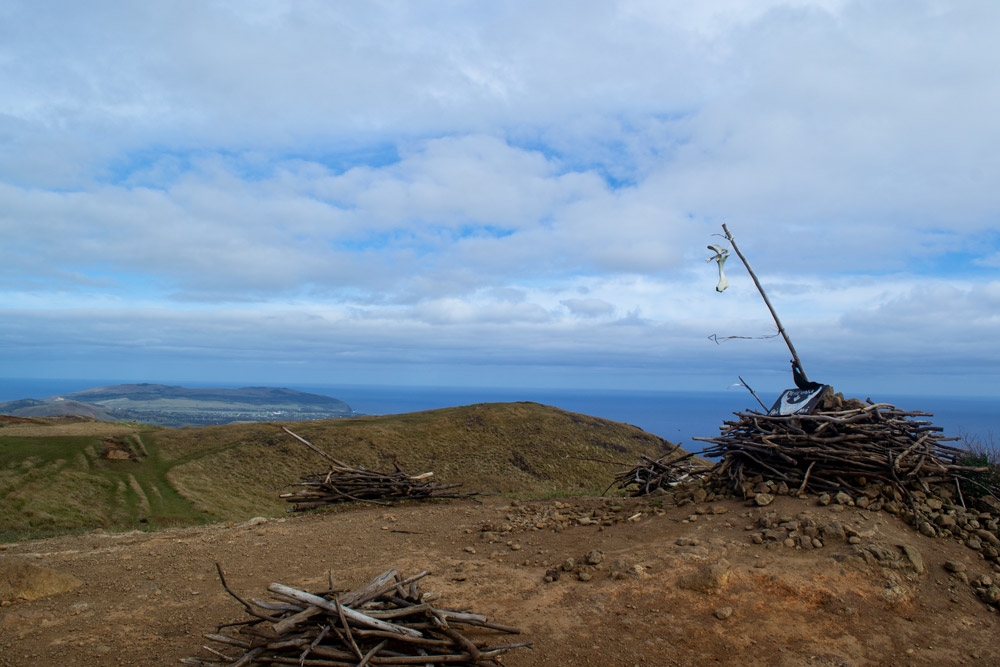 2. It's not always sunny and tropical
Yes, Easter Island is in the middle of the Pacific Ocean and part of Polynesia. But that doesn't mean it's always a South Pacific idyll. Technically, Easter Island falls under the category of having subtropical weather, meaning that, in general, the weather is warm and humid, but during winter temperatures can drop into the 50s. Easter Island also gets a lot of rain (which is spread out throughout the year but usually peaks during the winter months of June to August), which can make the island feel unseasonably chilly, so don't forget to bring raingear as well! Find out more about when is the best time to visit here.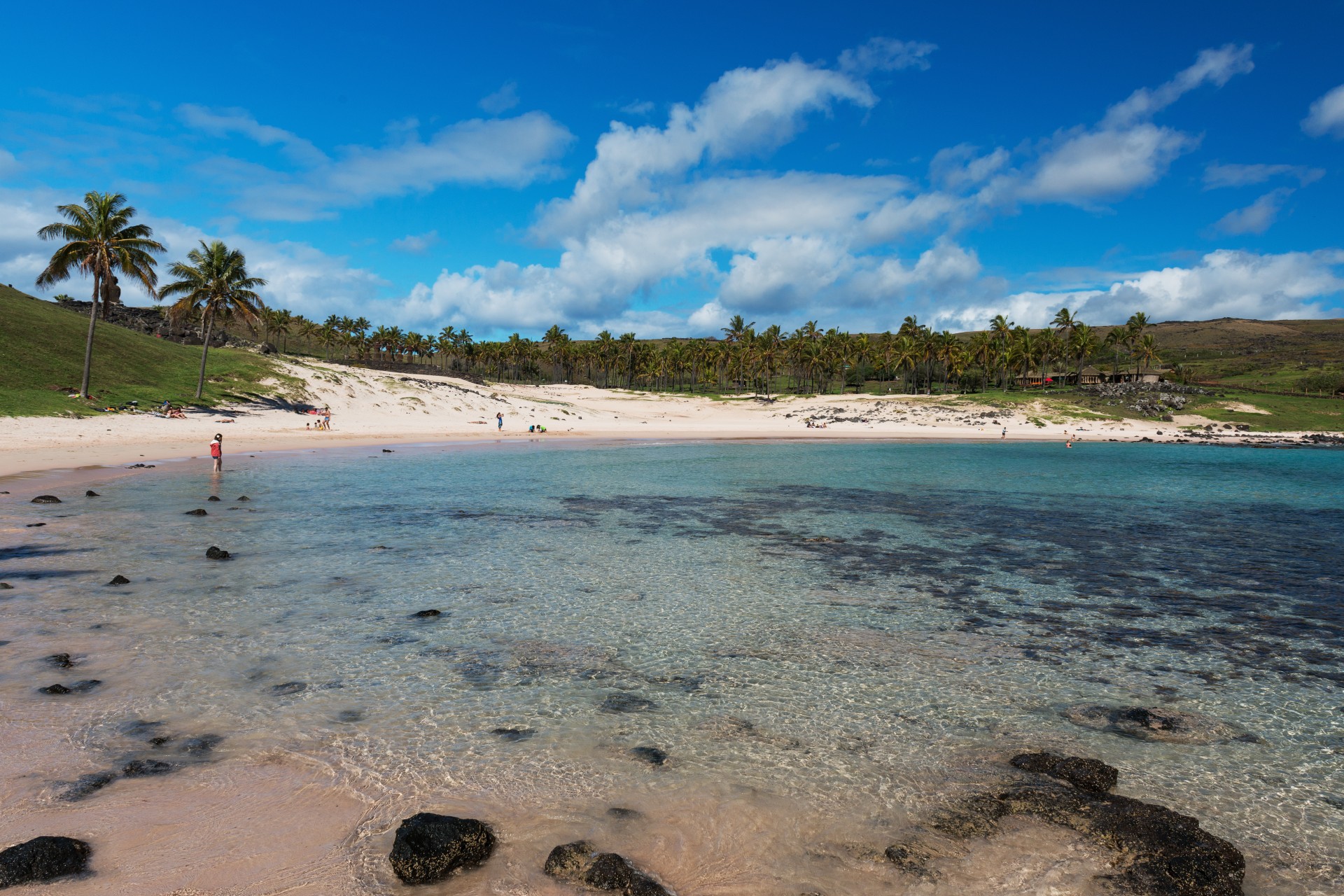 3. Anakena Beach is cash-only
Anakena Beach, located on the opposite end of the island from Hanga Roa, is the only swimmable beach on the island and so is extremely popular among visitors and locals alike. With a large, half-moon beach of white coral sand, tranquil waters that are protected by the cove, and gently waving palm trees, it's a slice of Polynesian paradise in the middle of nowhere.
With no hotels or accommodations in the vicinity, most people travel to the beach for the day from Hanga Roa, and local vendors have set up food stalls and stores; picnic sites, bathroom facilities, and a parking lot are also available to cater to these day trippers. But the one thing you won't find is a credit card machine: everything on Anakena Beach operates on a cash-only basis. ATM machines can be found in Hanga Roa, so be sure to withdraw enough for the whole day!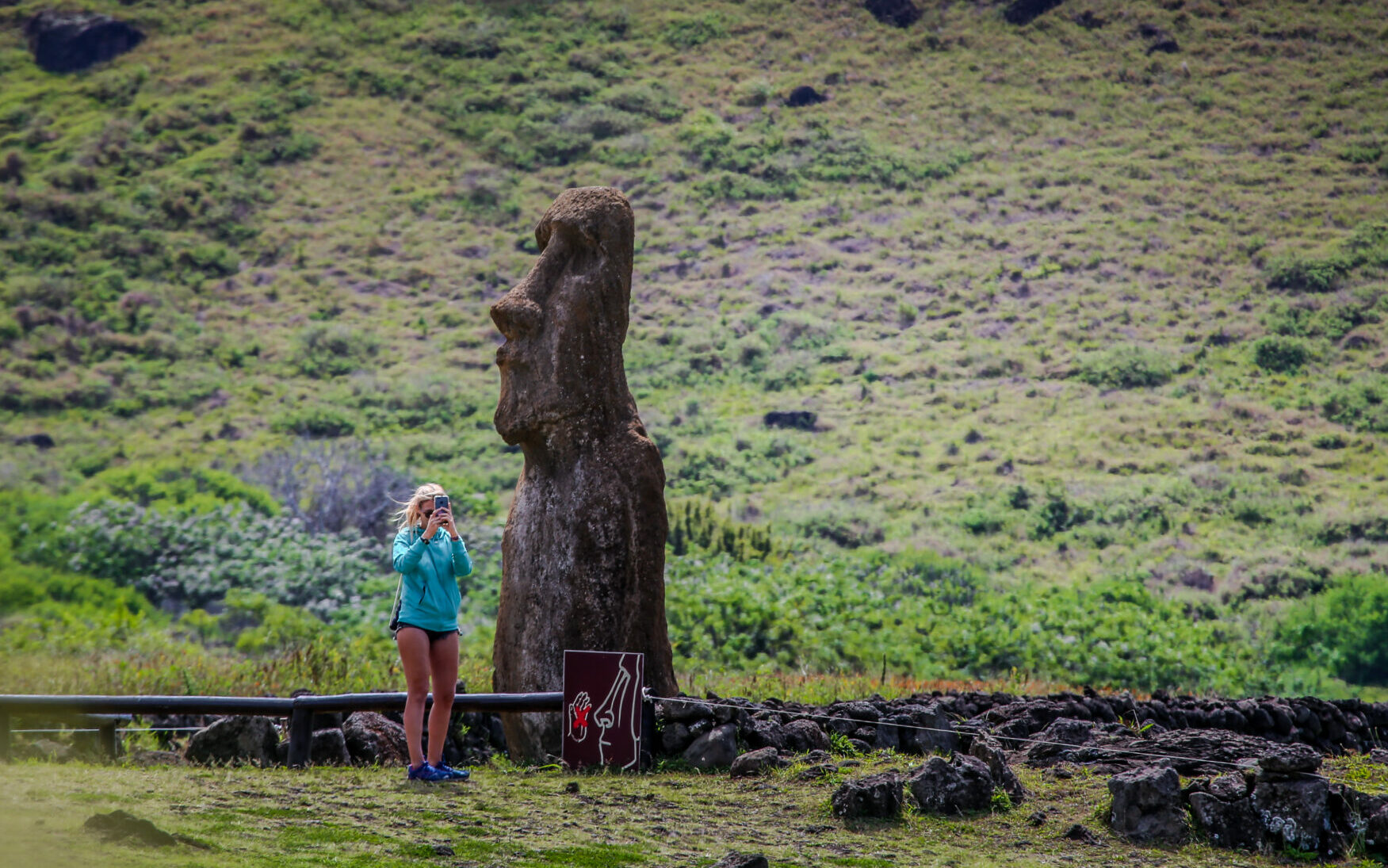 4. You're not allowed to touch the Moai
The Moai are amazing examples of art, design, and engineering that boggle the mind. Who wouldn't want to touch a piece of history like that, especially because many of them are located close by the trails and paths? But still: keep your hands off! The Moai are protected by local law and touching one even comes with a fine; one tourist was fined more than $17,000 USD! This is mainly because, due to time and exposure to the elements, the Moai are naturally deteriorating, but having tourists constantly touching them speeds up the process. So, remember to keep your hands to yourself and instead pick up a Moai figurine as a souvenir.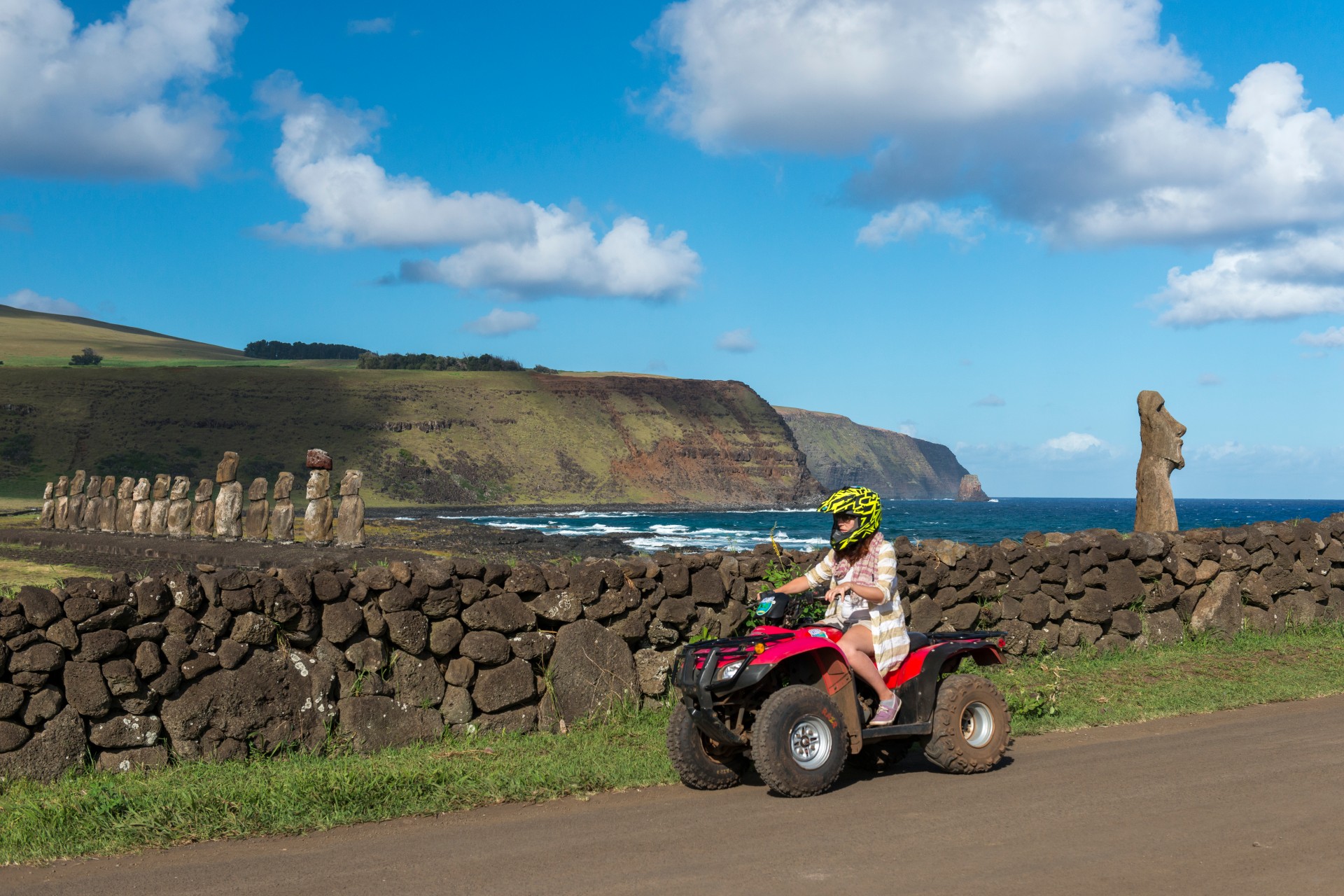 5. Getting here is expensive and requires some advance planning
To combat over-tourism and because the island is so small, flights to Easter Island are limited and pretty pricey: round-trip fare from Santiago in high season can be upwards of $500 per person or even get into the thousands of dollars. There are several ways to snag cheaper flights, though: visit during the low and shoulder season, book well in advance, or plan out a longer trip (flight fares go down if you're staying on the island longer instead of just visiting for a few days).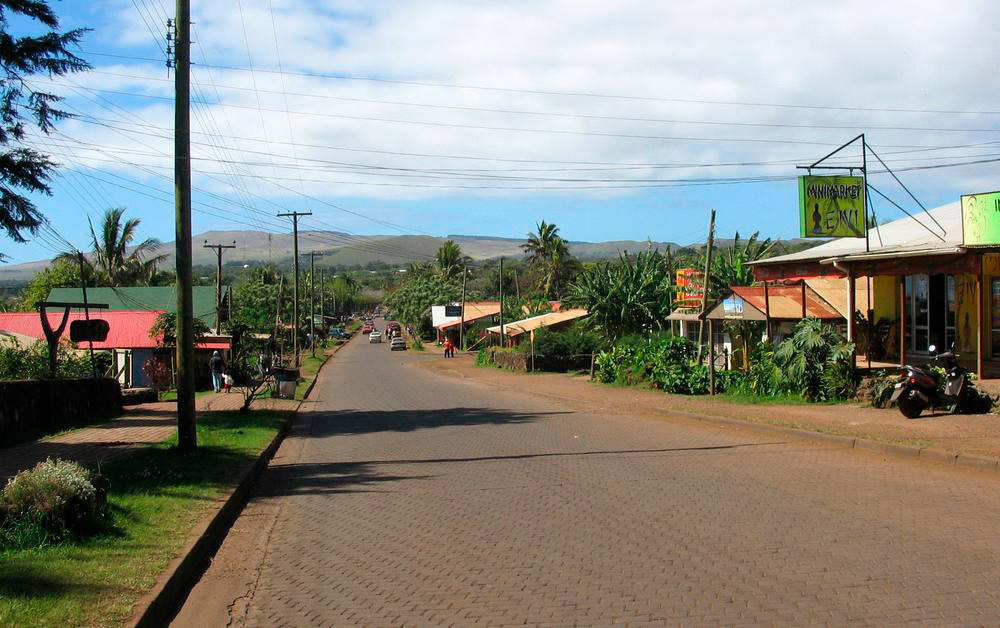 6. There are no buses on the island
Easter Island is pretty small: only 63 square miles. With everything concentrated in Hanga Roa, that means that there are no local buses running routes around the island, except for tour buses. However, since the island is so small, that makes it easy to get around on your own. You can rent a car (there are several car-rental agencies), or go cycling (which is especially popular as the island is mainly flat and makes for easy riding). You can also hire a local taxi (there's no Uber here!) to take you to certain sites.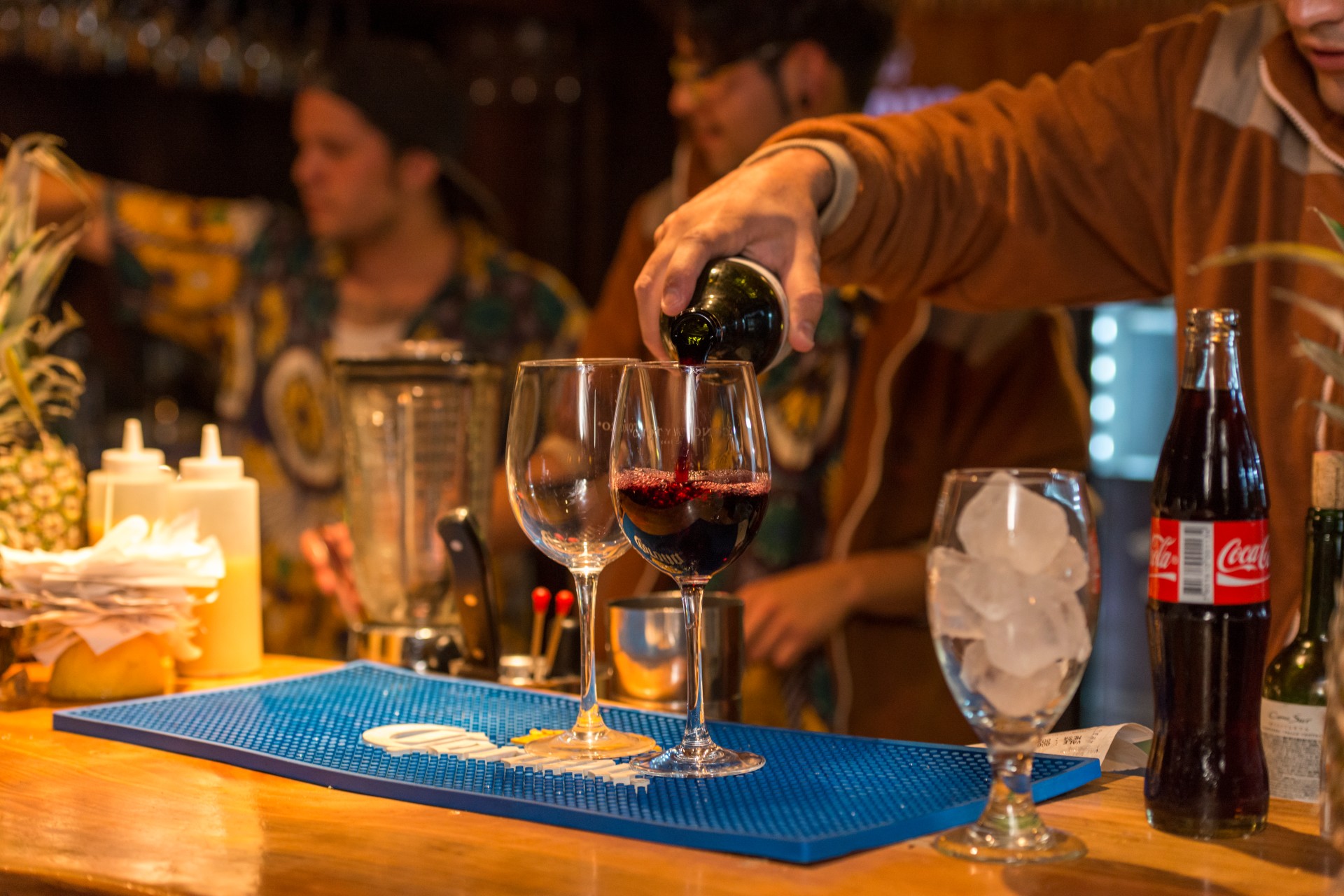 7. Everything is charged in Chilean Pesos
Since Easter Island is legally a part of Chile, the primary currency accepted on the island is the Chilean Peso. But since so many visitors come from the United States, US dollars are also widely accepted. There are several money exchange offices in Hanga Roa, or you can convert your dollars to pesos in the Santiago airport before leaving the mainland.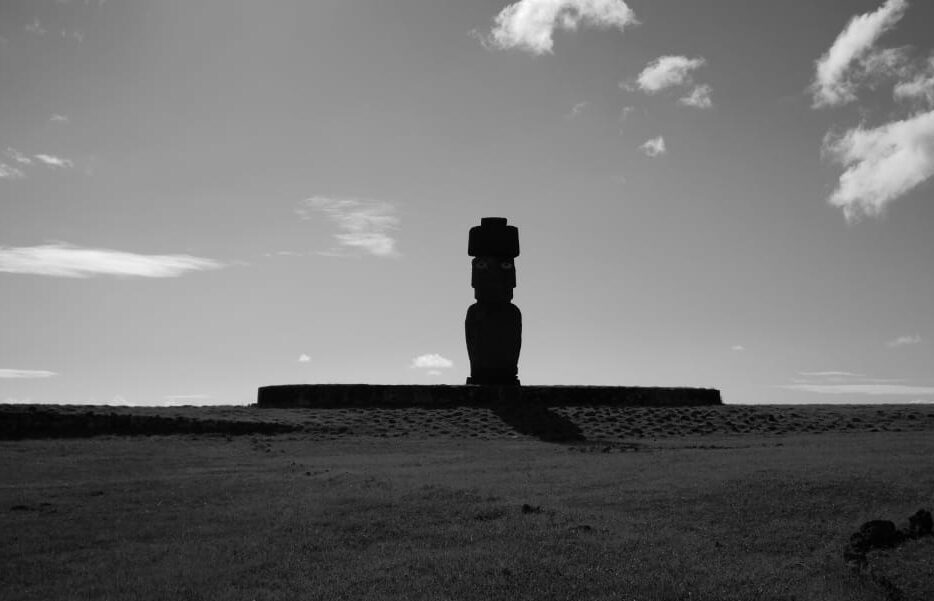 8. That Moai at the bottom of the ocean? Yep, it's not real
You've likely seen pictures of a Moai resting on the bottom of the ocean near the island, with people scuba diving nearby. Sounds like an amazing experience, right? Well, yes, but you should know that the Moai is actually a fake. It's a leftover prop from the 1994 movie Rapa Nui. But still, makes for a great scuba diving adventure!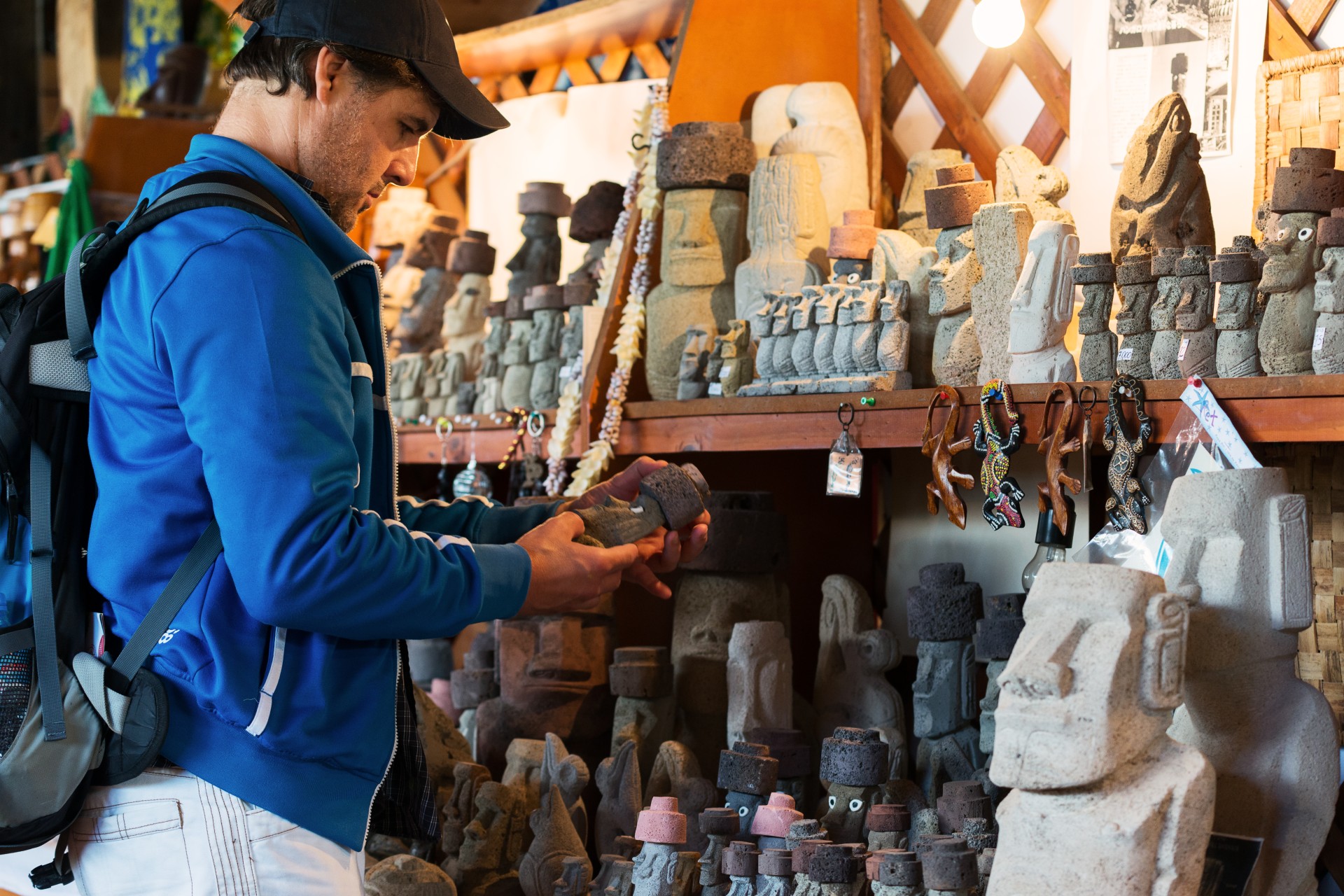 9. It's not just the flight that's expensive
Any way you swing it, Easter Island is a pricey destination. In addition to the flights, food and lodging can also be costly, especially since lots of things on the island need to be flown there from the mainland. But there are ways to save money and stretch out your budget. You can bring customs-approved snacks and food from the mainland, making reservations well in advance, and visiting outside of peak tourist season.
Plus, taking extra care to make sure you've packed everything you'll need while on the mainland will help in avoiding any last-minute, "oh no, I forgot to bring…" purchases while on the island, where they're guaranteed to be more expensive. But everything that Easter Island has to offer more than justifies the hefty price tag.