Similar to many other Polynesian cultures, Easter Island cuisine – Pascuense cuisine – was and still is to this day strongly influenced by and dependent upon the offerings of the surrounding ocean. Fish and seafood like mahi-mahi, tuna, swordfish (kana-kana), octopus (heke), lobster, sea snails, eels, and shrimp are all commonly used in traditional Easter Island cooking, complemented by fruits and vegetables like bananas, pineapples, pumpkin, sweet potato, taro, and coconut.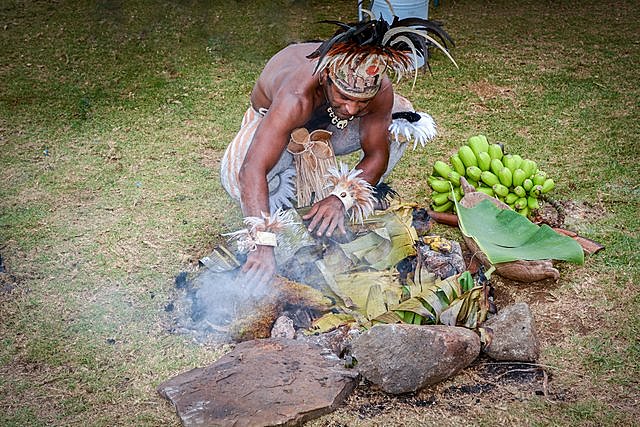 📷: imaginaisladepascua.com
In the past, most foods were prepared by wrapping the ingredients in banana leaves and roasting them in an "umu pae", an earth oven. Some of the most traditional recipes include tunu ahi (grilled fish on hot stones), po'e (a type of bread pudding made from flour, pumpkin, and plantains/bananas), and ceviche. But it can be argued that the quintessential dish of Rapa Nui is the Easter Island curanto, where meat, chicken, vegetables, seafood, and other ingredients are cooked on top of hot stones placed in a hole in the ground and covered with plantain leaves. This feast was only prepared for special events and was a huge community event, as it still is today.
Nowadays, although elements of traditional Chilean and European cooking have integrated themselves into the island's gastronomic history, many of the restaurants around Easter Island and in the town of Hanga Roa still offer Rapa Nui dishes just as they've been prepared for centuries: the classic tastes of the land and sea. When visiting the island, you'll want to make sure you get to taste the real Rapa Nui, so here are the best places to eat on Easter Island.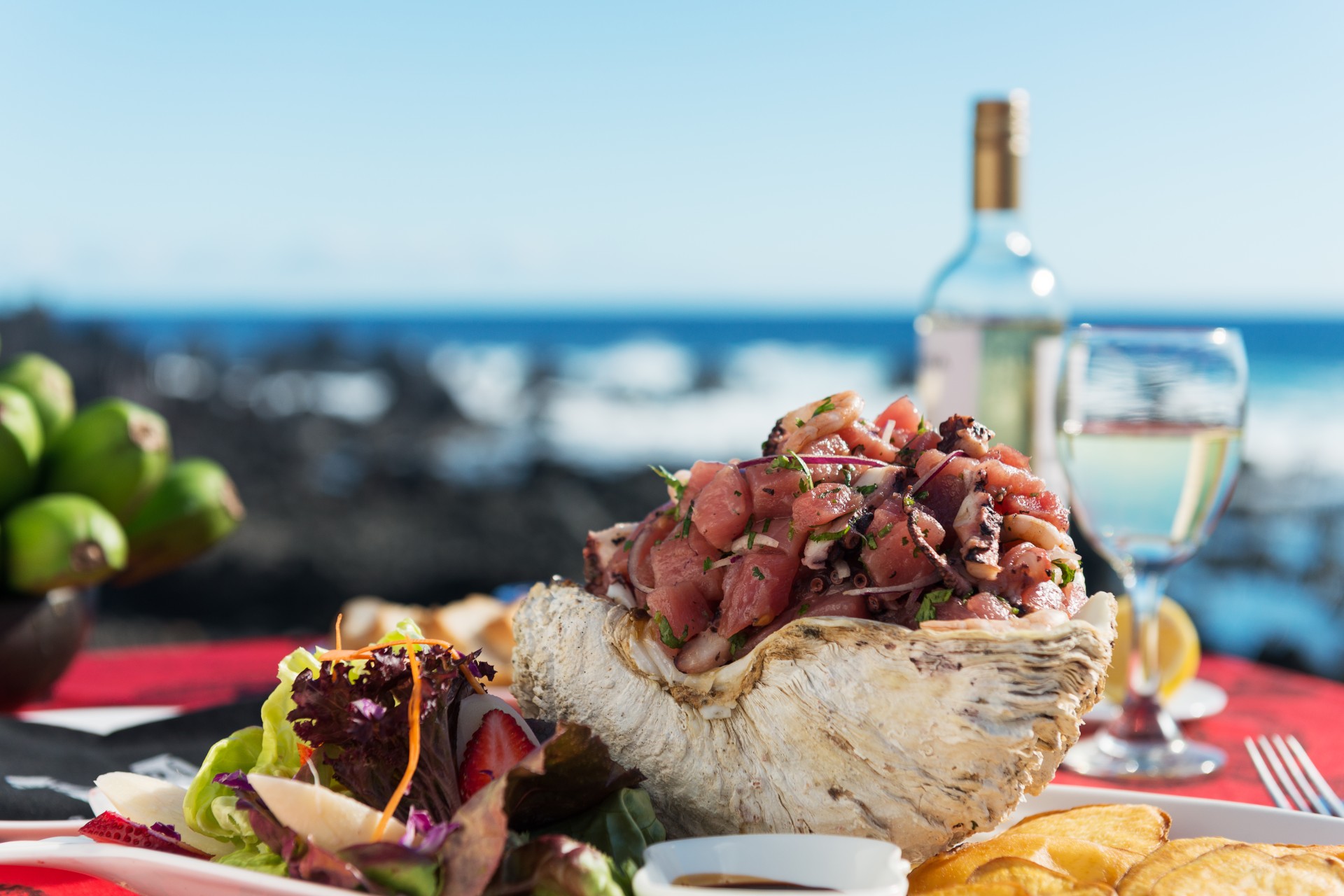 1. Haka Honu
This casual oceanfront eatery specializes in fresh, seasonal seafood dishes that are endemic to Easter Island, and it's said that this place gets first pick of the catch of the day. Native fish like mahi-mahi, kana-kana, and tuna served with fruity sauces and garnishes are popular menu mainstays, as well as tangy ceviche. Standard dishes like burgers, salads, pasta, and steaks are also available. Drinks-wise, beer and cocktails pair especially well with the sunset ocean views and the fresh-pressed fruit juices are perfect for quenching your thirst. While popular with tourists, during the low season it's also the haunt of choice for the locals, so if you're visiting during winter head here for the party. Accepts credit cards.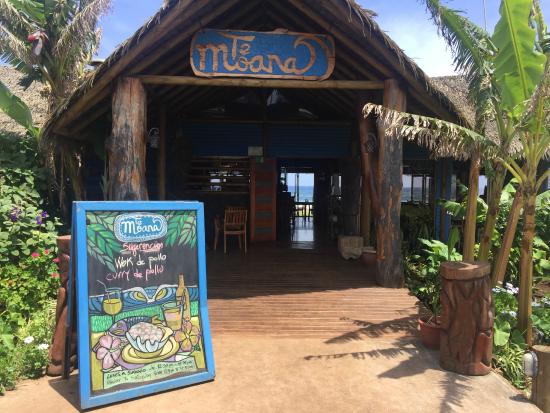 2. Te Moana
Cue the Moana songs! Well, actually no, but while you won't find singing Disney princesses and crabs here, you will find some of the island's best traditional Rapa Nui dishes, as well as Chilean and Polynesian fare. Fresh fish is available daily, and their octopus and langoustine dishes are big crowd pleasers. But a real treat is enjoying a meal prepared on their outdoor, waterfront grill; watching your meal cook while the sun sets over the ocean beyond is a thing of beauty. They also do great fruity cocktails, complete with flowers. Seating options include indoor or outdoor veranda, and credit cards are accepted.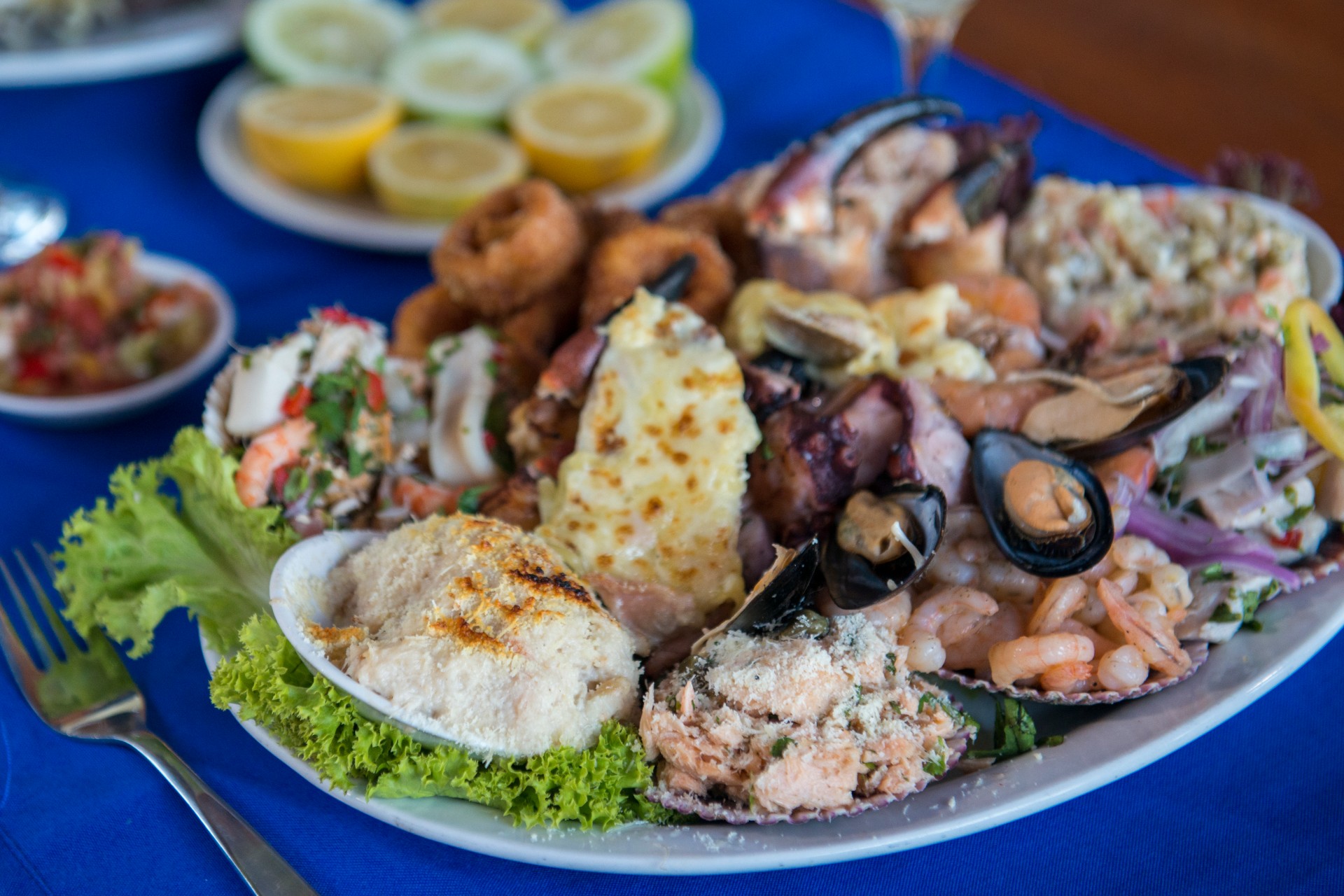 3. Tia Berta
If you're craving a taste of mainland Chile while on the island, pay a visit to Tia Berta's for her huge, delicious, and filling empanadas. Seafood empanadas are her forte, including tuna, tuna with cheese, shrimp with cheese, and mariscos (assorted seafood like mussels). The menu also includes traditional fish soup (caldillo de pescado) and ceviche. Open for brunch and lunch, and cash only.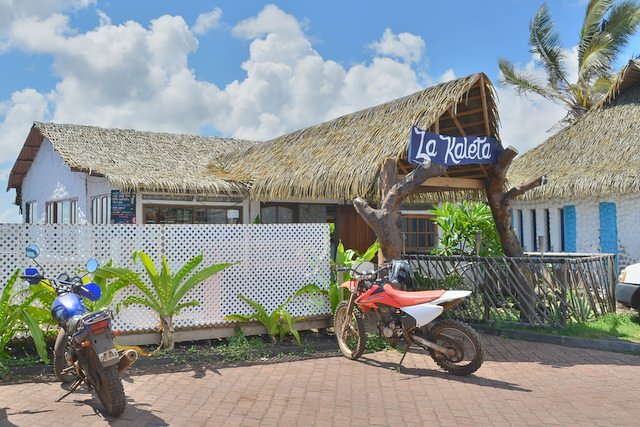 4. La Kaleta
Looking for the best meal in town? It just might be here. In 2016, a leading Chilean newspaper named La Kaleta the best regional restaurant in the whole of Chile, and the proof is in the pudding (or rather, the ceviche). Ever since, especially during the summer season, this place is always packed for lunch and dinner, and not just because of the food: the white-washed, thatched roof restaurant is located just steps from a sandy beach and has unobstructed ocean views. Their seasonal ceviche is always a hit, as well as their fish, seafood pasta, and "Papas Vaiani": fried potatoes, octopus, and shrimp covered in a cheesy sauce. They also have one of the best wine lists on the island. Accepts credit cards.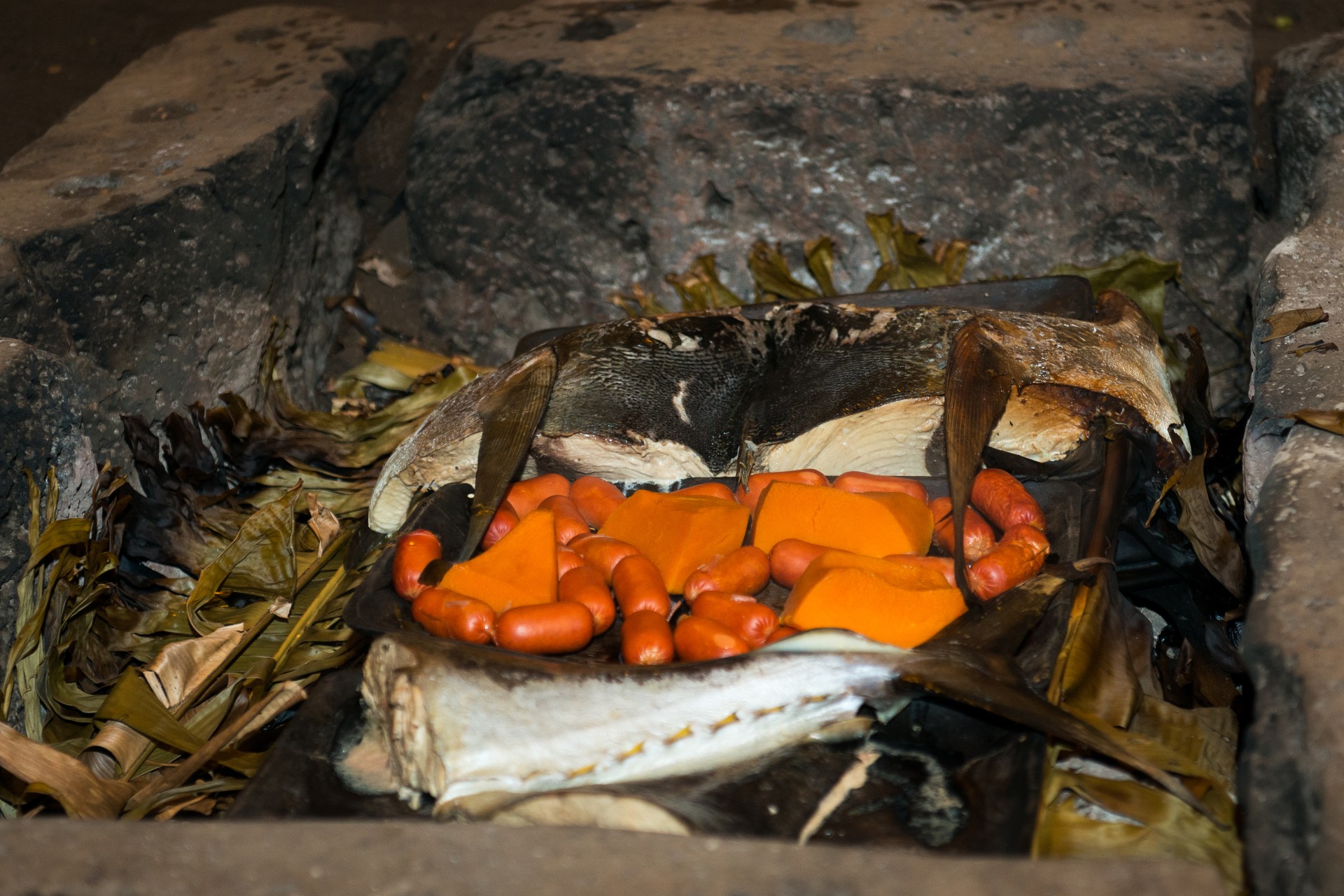 5. Te Moai Sunset
Pretty much every restaurant worth its salt on Easter Island has an ocean view, so how do you stand out from the pack? Offer an ocean view with Moai as well, that's how! This hip newcomer to the Rapa Nui dining scene is set back from the beach on a small bluff and offers an enchanting, panoramic view of the Pacific Ocean with the Ahu Tahai and Ahu Ko Te Riku in the foreground. It's the perfect spot for dinner, and the food is just as winning as the view. Succulent ceviche, catch of the day fish fresh from the ocean, shrimp and octopus risotto, and fish stew are just some of the highlights; an exceptional cocktail list and diverse wine menu complete the experience. Be sure to start your evening by enjoying an aperitif while lounging in the hanging wicker chairs on the outdoor patio. Accepts credit cards.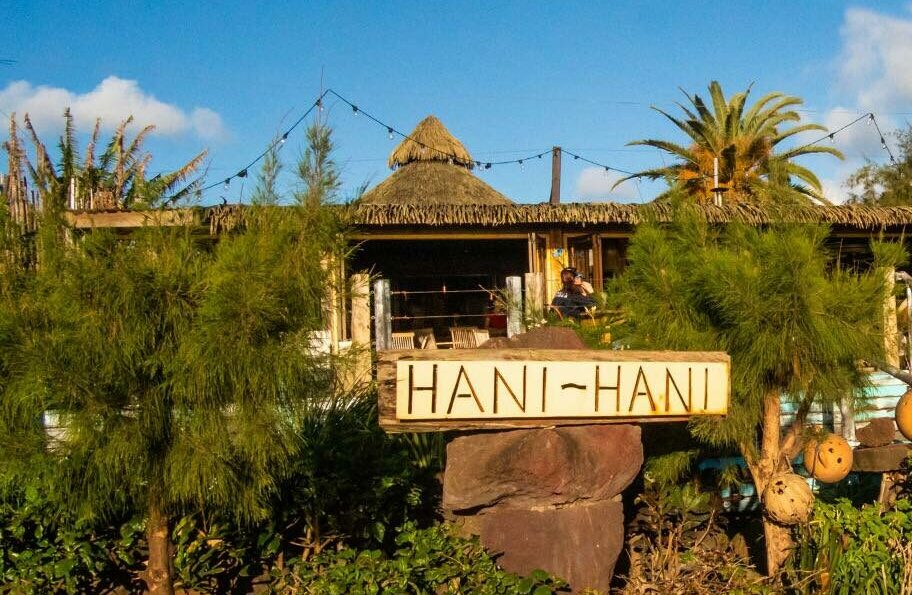 6. Hani Hani TunuAhi&Bar
For visitors and locals alike, it's always a good time at Hani Hani's. This popular restobar is a lively nightlife spot that also offers a full menu for dinner, as well as bar food. Fresh meat, fish, and other seafood are prepared on their special barbecue, but they also have good raw options like the house specialty of Ika Mata: prime cuts of fresh raw fish and ceviche combined with fruit and veggies. Decorated with a Polynesian theme and with an extensive drink menu, this is the place to be for a fun night out on the town. Cash only.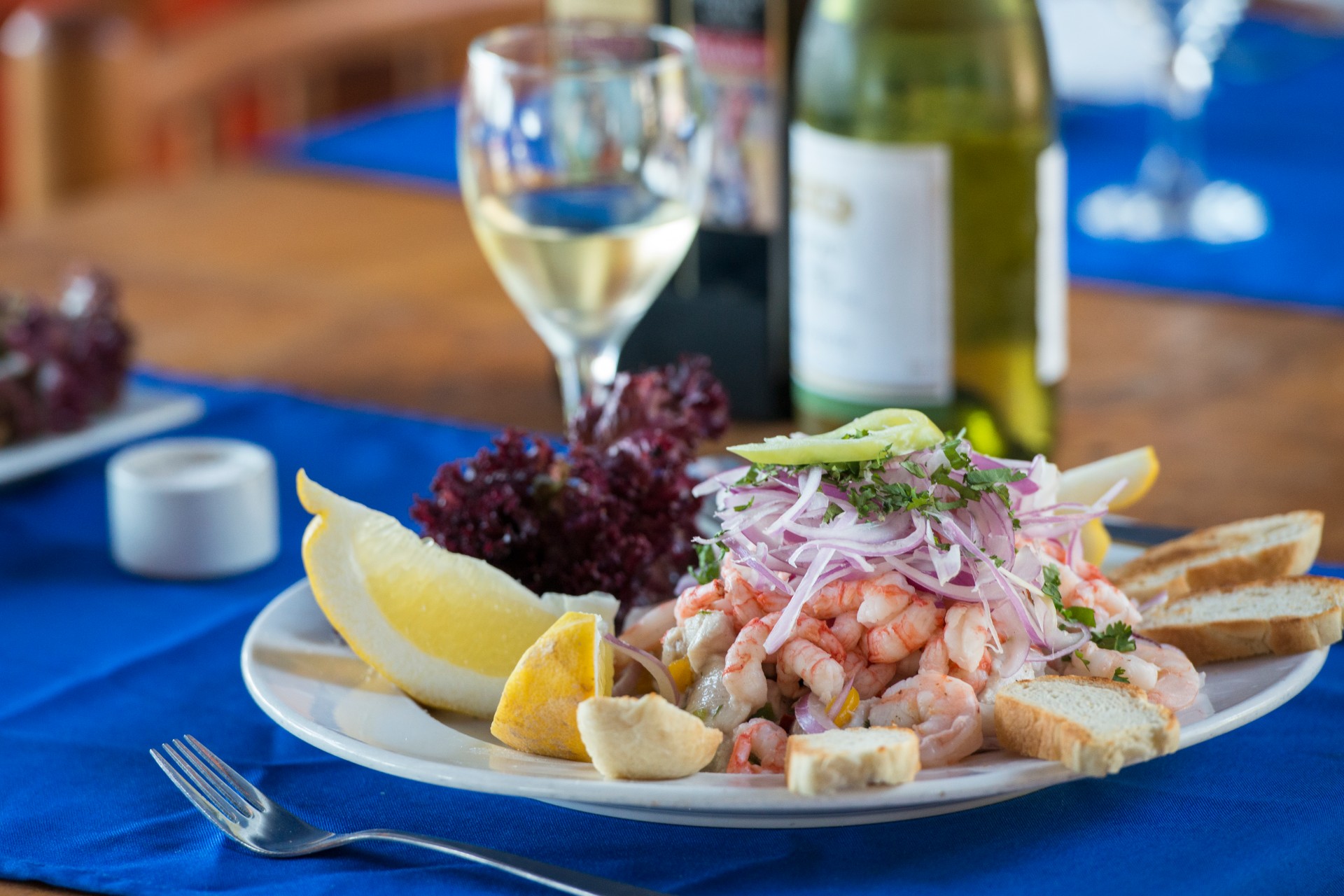 7. Mahalo Terraza & Bistro 
This laidback but refined bistro takes traditional island and Polynesian dishes and ingredients and gives them its own unique twist with elegant platings and inventive combinations. Ceviche, filet of fish, shrimp curry, and other dishes are some of the house specialties, with a nicely paired wine menu to match. Located in an upscale bungalow with subdued Polynesian decor, Mahalo's perfect setting (did we mention the ocean view dining terrace?) and delicious cuisine makes for a lovely date night spot. Their cocktails are especially refreshing. Accepts credit card.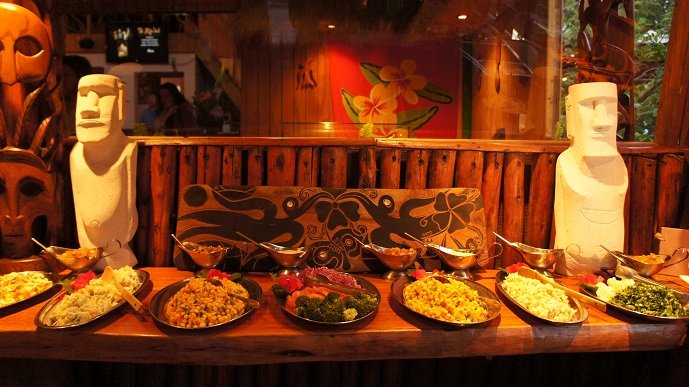 8. Te Ra'ai
Want to experience a traditional Easter Island curanto feast? Te Ra'ai is unquestionably the best. The family that owns the restaurant has been preparing curanto for generations, offering it to the community for Tapati (the week-long cultural festival) and to visitors to introduce them to Easter Island cuisine.
To make curanto (Umu Rapa Nui), a large hole in the ground is filled with hot coals or hot stones, with plantain leaves placed on top. The leaves are then covered with meat, chicken, fish, sausage, etc., which is topped with another layer of leaves and ingredients like fruits and veggies. Everything is then covered up one final time with more leaves and then left to cook. The result is a steaming smorgasbord of delicious flavors. At Te Ra'ai, you can taste the traditional curanto for yourself, as well as see how it's prepared. In addition, the restaurant also offers cultural shows, music, and plays, complete with costumes and make-up. This place is extremely popular, especially during high season, so reservations are recommended. Accepts credit card.