If you're planning a romantic holiday with your significant other, consider Chile as your destination! From picture-perfect sunsets and glittering night skies to secluded beaches and luxury hotels, this really is the perfect place for couples to celebrate a honeymoon, an anniversary, or just being together. And it was voted South America's most romantic destination in 2022 by the World Travel Awards! Whatever your idea of romance is, there is something in Chile for you and your half an orange, as Chileans say.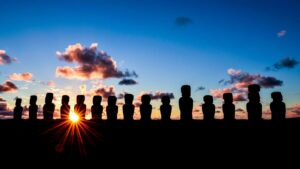 Sunrise on Easter Island
Easter Island has a certain magic about it that you have to experience to understand. With white beaches, crystal-blue sea and palm trees, it's a Pacific island tropical paradise. But its history, culture, slow pace of life, and the romance that lingers in the fresh sea air make it a popular destination for couples. Besides delicious food and beautiful hotels, you can have a truly unforgettable trip here.
What do we recommend? Watching the magical sunrise over the 15 giant Moai statues in Tongariki is unmissable for any couple visiting the island. Don't miss out on visiting the Ana Kakenga cave too. It's rumoured to be the last hiding place of a young couple who fled punishment for their forbidden love.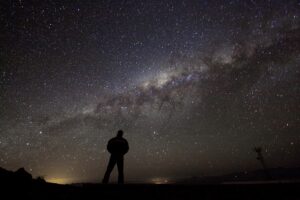 Stargazing in Atacama
Experiencing the wonders of the Atacama desert is a favorite amongst our travelers and we think it's a top destination for couples too. Here, you can watch the sunset over the breathtaking Moon Valley or have breakfast as the sunrises over the Tatio geysers. But our favourite activity for couples here is stargazing. Does it get more romantic than watching the glittering stars in one of the clearest skies in the world? Be sure to stay at one of the local boutique hotels to enjoy a more exclusive feel.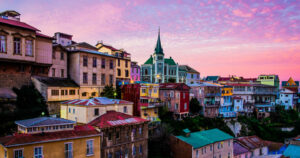 Boutique hotels and wines in Valparaíso
Wander through the charming city of Valparaíso and pass through its lively and famously colorful streets. You can dive into the culture as you sample its cafes and restaurants, take a walk through its galleries, or step into the past on a trolley bus to enjoy this UNESCO World Heritage site. Step up the romance by visiting the nearby vineyards to sample world-famous wines. Stay at one of the area's luxury boutique hotels for intimate evenings overlooking the sea. Make sure to escape from the hustle and bustle of the city to enjoy the mix of enchanting beaches and intriguing pine forests too – the perfect getaway location!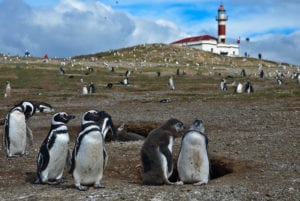 Magdalena Island
Visiting a penguin colony may not be the obvious choice for a romantic getaway, but trust us on this one! Watching these penguins is sure to warm your heart. When you visit the colony, you can see the penguin couples work together as they bring food and care for their eggs and chicks. It's even cuter when you know that penguin couples stay together for life?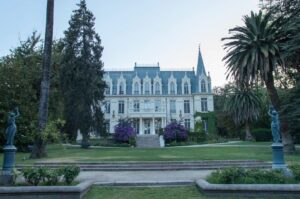 Luxurious Santiago
For a luxurious romantic retreat, staying at Las Majadas hotel on the outskirts of Santiago is a must. Tucked away in the Andes and dating back to the sixteenth century, this is a real romantic treat. Here, you and your significant other can at relax the on-site spa. Alternatively, you could sample the produce of the surrounding vineyards, enjoy the best local food, or take a stroll through the gardens. Why not escape to the nearby mountains for a beautiful backdrop to your special vacation?