So you want to go to Patagonia, but don't know where exactly? We don't blame you! The area called Patagonia is an enormous 400,000 square miles spanning across two countries. It's one of the most beautiful, wild, and fascinating parts of the world. It's also incredibly diverse. Once you know what kind of activities you want to do, or what kind of environment you want to be in, it's much easier to decide if Northern or Southern Patagonia is for you!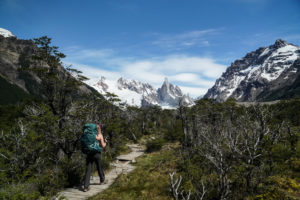 Northern Patagonia
If you want to explore luscious forests, see snow-capped volcanic peaks, and swim in wide blue lakes, Northern Patagonia is the one for you. It includes highlights like the Chiloé archipelago, San Rafael National Park, and the towns of Pucón and Puerto Varas. Although less known than the skyscraping monoliths of Southern Patagonia, the Lake District and Aysen are full of adventure to enjoy! Try kayaking in the marble cathedrals of Puerto Rio Tranquilo. If you're feeling braver, try your hand at white-water rafting in the Trancura River!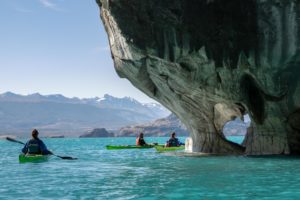 Northern Patagonia is great for walkers, too! Make sure you include the Cerro Castillo in your itinerary or walk amongst ancient forests in the Lahuen Ñadi Natural Reserve if you want to explore the region on two feet. With its abundant forests, this area is fantastic for wildlife spotting. From the colourful birds of Chiloé, to the sealions of Metalqui island, or the Puñihuil Humboldt and Magellanic penguin colony there's so much to see.
If you prefer cultural escapes, this area of Patagonia is packed full for you to discover. Spend a day learning about the culture of Huiliche indigenous people with a local family and discovering their traditions. Or taste the European influence in the region with a stein at the Chilean-Belgain Dolbek brewery in Coyhaique!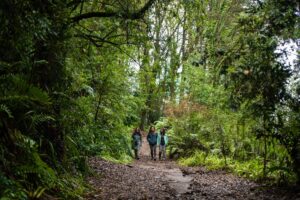 Southern Patagonia
Southern Patagonia is much wilder than its northern counterpart in every sense. Green forests are swapped for rocky mountains and lakes for glaciers. Here you can find a whole array of wildlife that will make you feel more connected to nature than ever. Keep an eye out for pumas, guanacos, and condors roaming free in this dramatic landscape.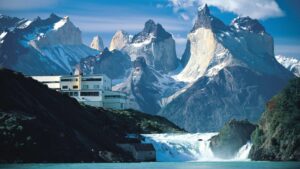 Of course, you cannot talk about Southern Patagonia without mentioning the world-famous Torres del Paine. The W-trek features on many hikers' bucket lists, but it's not the only path to explore here. Alternatively, you could take the southernmost trek in the world on Navarino Island and climb the sharp teeth-like peaks at the end of the world. Or head off the beaten track behind the Torres and discover the Silent Valley.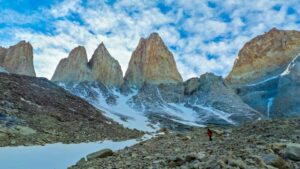 Southern Patagonia isn't limited to hiking lovers. If a 4-5 day trek seems daunting to you, you don't need to miss out on the highlights of the Torres del Paine park! Take a tour to visit the highlights and enjoy a more leisurely stoll alongside the astonishing Grey Glacier. Alternately, take a catamaran across the turquoise Lago Pehoé or discover the fjords by boat. For quieter days, explore the towns of Puerto Natales and Punta Arenas. Of course, you could also try to spot some wildlife and head to Magdalena Island to meet the penguins that live there or go dolphin watching on the Magellanes strait.