When you're traveling, especially outdoor and adventure vacations, It can be hard to know what to expect from your activities. What does 'difficult' mean when you're hiking? How experienced or in shape do you need to be? Don't worry! Here are the answers to your doubts! 
Easy activities
There are plenty of activities to choose from in Chile if you're not the adventurous type or you want to take it easy for a few days. An 'easy' activity generally means 1-2 hours of walking with gentle or short inclines, or a similar level of intensity. If you can couple of miles and climb 3-4 flights of stairs, you should have no problem. There are normally stops on the way, such as to look at points of interests or sample food. Uncover the local gems of Santiago and Valparaíso on a walking city tour with a local guide as you discover the local culture, art, and foods, or spend time with an Easter Island local learning about their traditions and cultures.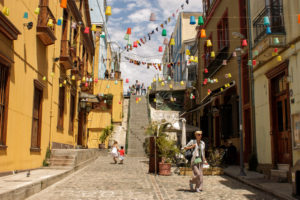 Taking the easy alternative doesn't mean that you will miss out on the sights. Many of the locations are accessible by transport, offering a great alternative for travelers with injuries or disabilities. Ask your sales representative if you can swap a kayaking around the Marble Cathedral or at the Perito Moreno glacier for a boat trip, or a change a hike in the Torres del Paine park for road trip.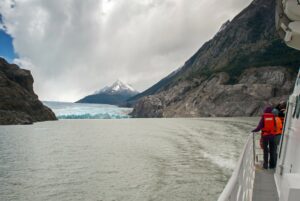 Moderate activities
On moderate activities, you'll feel your heart rate increase a little and be much more immersed in nature. These activities often last around 3-4 hours and demand a certain level of fitness. For a moderate level hike, you should be able to walk at least 3 miles and climb 5-6 flights of stairs to make sure you can enjoy the activity safely. You can expect some incline on these treks.
Besides its famous Moai statues and the fascinating cultural activities on Easter Island, you can enjoy some spectacular hikes. Climb to the highest point on Easter Island, the Terevaka volcano, to take in a 360° view of the island that few get to experience or explore the south side of the Rano Kau volcano.

You may find short or flat hikes in the Atacama being labelled as moderate – no, it's not a mistake! While outings to the Tatio Geysers or the lagoons may have more stops or seem gentler, remember that you are a few kilometres above sea level! Any physical activity at this height may tire you out more than normal here. If you want to do anything strenuous, ensure you are well acclimatized to the altitude.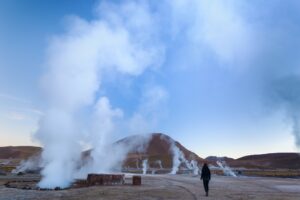 Other moderate activities include city bike tours, for which you need a similar level of fitness and be reasonably confident on a bicycle. Alternatively, give your legs a break on a moderate kayaking experience to the Marble Cathedral or along the Grey glacier, or enjoy the crystal clear waters around Easter Island as you try scuba diving amongst the corals and turtles.
Difficult activities
For the adventurous and more experienced, feel the adrenaline rush of some of the most sought-after hikes and routes in the world. These are full-day activities that require considerable fitness – you should be able to walk 8 miles and climb upto 10 flights of stairs without serious problems. If you're up for the challenge though, the rewards are certainly worth it!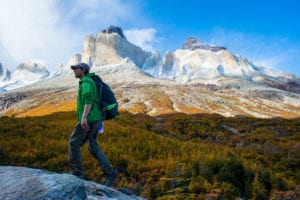 One of the most iconic treks of Patagonia stands out in this category. The Base of the Torres del Paine trek is not for the faint-hearted. Besides the length of the route (22km/13.6mi) and the climb, hikers often face strong winds and unpredictable weather testing not only your physical capacity but also your mental stamina. However the sense of achievement and the astounding views at the top keep this as one of the most popular treks in Chile. 
Although Easter Island is typically viewed as a subtropical paradise and a place to relax, you can enjoy a challenging hike here too. Trek a full day along the north coast of the island, starting at Roiho, passing by Hanga Oteo, before finishing at the idyllic Anakena beach. Along the way you can enjoy some incredible architecture and spectacular views. 

If you have any questions about the difficulty level of any activity included in your itinerary, our sales team will be happy to help you! We try and test every activity we offer so we can give you first-hand guidance.